Lakers President Jeanie Buss Supports Vanessa and Kyrie Irving on Changing NBA Logo to Kobe Bryant
Published 02/27/2021, 4:44 AM EST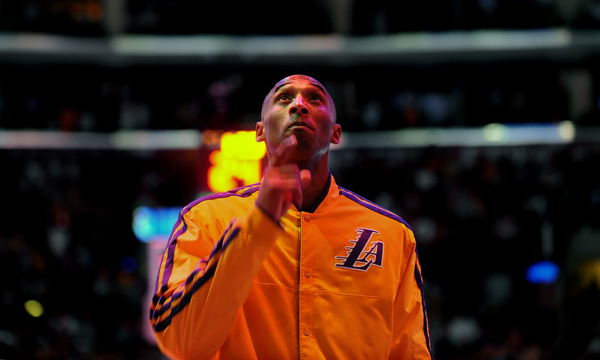 ---
---
A couple of days ago, Kyrie Irving caused a stir among NBA fans all around the world when he suggested that the league should change its logo to a silhouette of the late Kobe Bryant. While some criticized the comment, fans all over the world have supported the initiative.
ADVERTISEMENT
Article continues below this ad
Even Kobe's wife, Vanessa Bryant, came out in support of Kyrie. Yesterday, Lakers' President Jeanie Buss became the latest person to come out to bolster Kyrie & Vanessa's comments. She tweeted, "I agree with Vanessa Bryant. Kobe set a standard and players agree too. Let me know what you think."
ADVERTISEMENT
Article continues below this ad
This is not the first time that the NBA community has wanted Kobe to be the logo. After the tragic death of the 'Black Mamba', fans around the world signed a petition to change the league's logo. The league, however, didn't pay any heed.
The NBA community has been absolutely buzzing about a possible change in the league's logo. There hasn't been a major change in the league's logo since its rebranding in 1969.
Given the current logo's popularity all over the world, it looks unlikely that the league would be willing to make such a drastic change anytime soon.
NBA twitter chimes in for NBA logo change as a tribute to Kobe Bryant
NBA twitter is absolutely buzzing on the latest logo debacle. While majority fans have been in support of the change, others beg to differ.
🐍 🙏🙏🙏🙏🙏👼😳😳😳😳 YES! 💯 Should have been while he was alive.If only you people knew the man..❤💜💛Would be fitting as would be two Statues at Staples Queen. One #8 and One #24…You are missed Champ.😢 Thank you for your Friendship.💯💜💛🙏🙏🙏👼 pic.twitter.com/jY3IKipY15

— Lady Mamba Bigtime Lakers Fan.! 🎤🎤💣🏀 (@EngleDesiree) February 26, 2021
No disrespect to the Bryant family at all loved his game, but if the logo is changed to anything it has to be to the Air Jordan logo!!! Facts!!!!! pic.twitter.com/bVUTQ8E72a

— Phillys1finest215 (@Phillys1finest1) February 26, 2021
I was a Kobe fan for his skills and thrills and his maturation and embrace of fatherhood and statesmanship was inspiring. The rape charge is disqualifying as the logo IMO. If it is to be changed, then MJ or Kareem would seem to be better choices

— FFB (@alanfredffb) February 26, 2021
Kobe inspired an ENTIRE generation to never settle for less, be the hardest worker in the room and strive for nothing but greatness. He is THE STANDARD. pic.twitter.com/E88hY39svd

— Feel Good Brand Co (@feelgoodbrandco) February 26, 2021
ADVERTISEMENT
Article continues below this ad
It is an open secret that the original inspiration of the current logo, Jerry West, is not the biggest fan of being the face of the league.
In an appearance at ESPN's The Jump, West said, "There were five people that they were going to consider, and I didn't find out about it until the late commissioner [J. Walter Kennedy] told me about it. Again, it's flattering. But if I were the NBA, I would be embarrassed about it. I really would."
ADVERTISEMENT
Article continues below this ad
He also revealed that he was open about a possible change. "I don't like to do anything to call attention to myself, and when people [call him The Logo], that's just not who I am, period. If they would want to change it, I wish they would. In many ways I wish they would."
With 'The Logo' himself being open about a possible change, is it time for the NBA to finally change their iconic logo to Kobe Bryant?