Lakers Star DeAndre Jordan Has a Lot to Say About Ex-Team Brooklyn Nets
Published 10/03/2021, 12:00 PM EDT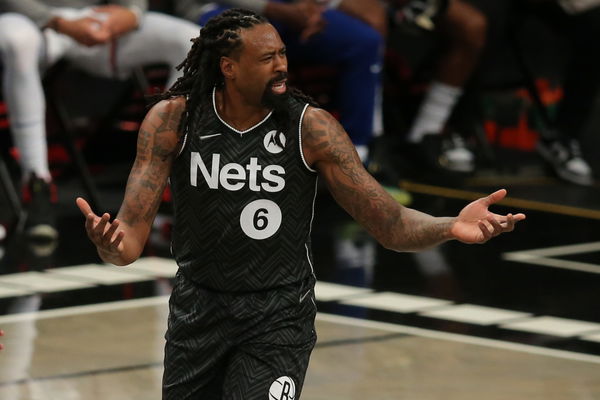 ---
---
After an offseason filled with surprises and some drama as well, the preseason will kick off with a matchup that will surely have fans glued to their screens. The Los Angeles Lakers are set to meet the Brooklyn Nets, which is predicted to be the NBA Finals showdown in the upcoming 2021-22 season. Why is that? Well, both teams have one of the most star-studded teams.
ADVERTISEMENT
Article continues below this ad
Last season, the Nets formed the 'Big Three' that shook the league, and this offseason it was the Lakers. With an ex-teammate of the Nets' players' now playing for the Lakers, has much to say about this much-awaited face-off.
DeAndre Jordan is more focused on the entire season ahead
ADVERTISEMENT
Article continues below this ad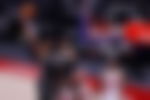 Of course, everyone is hyped for this match but DeAndre Jordan explained that they have a full season to get through, which should be the focus and not just this one game. "I got love for a lot of those guys over there, but at the end of the day, in the West you got to go through Phoenix and in the East you got to go through Milwaukee, regardless of what everybody else wants to say." DeAndre started off.
"Obviously both teams have championship aspirations, so I'm not going to say that we don't want to be playing late in June for a title. But it's going to take 82 games for us to be able to get and get ready and I'm sure the same for those guys. But we can't look at tomorrow as a Finals prediction."
He further explained that their priority is something else for the remainder of the season. If they successfully work on that, only then will they get to this NBA Finals predicted matchup. "If it happens, it happens, but I think we're just trying to focus on us and us being healthy and us figuring out a way to be able to be there in June," he concluded.
WATCH THIS STORY: Michael Jordan and Charlotte Hornets, LeBron James and Liverpool FC, & Other NBA Players Who Own a Stake in Sports Franchises
Not all stars will be present for the Lakers vs Nets game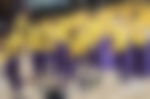 Frank Vogel just announced a few days ago that LeBron James, Russell Westbrook, Carmelo Anthony, and Trevor Ariza will not appear for this matchup. From the Brooklyn Nets' side, Kyrie Irving is not going to be present either because of COVID-19 protocols. Nothing has been said and done about James Harden and Kevin Durant's presence though.
ADVERTISEMENT
Article continues below this ad
Jordan thinks that worrying about who will play is the least of their concerns. They will only try to incorporate what they practiced during training camp, into this game. When asked about whether he thinks about his exit from the Nets or not, he made it clear that he doesn't like to ponder over it.
Watch This Story
He stated, "I'm thinking about where I'm at now and my focus is here with this group of guys and I'm excited about it. Like I said, we have plenty of friends on different teams and you're not thinking about how their season's going. You wish them luck and wish them health, but I'm focused on what we have here."
ADVERTISEMENT
Article continues below this ad
There are tons to look forward to about this deadly tussle. It will be a sneak peek of how Vogel plans to manage the center's rotation, between Dwight Howard, DeAndre, and Anthony Davis. And more than anything, it could be a small insight into what's about to come in June next year.