Lakers Star Kyle Kuzma Blames "Inconsistent Role" for Disappointing NBA Season
Published 07/08/2021, 9:42 PM EDT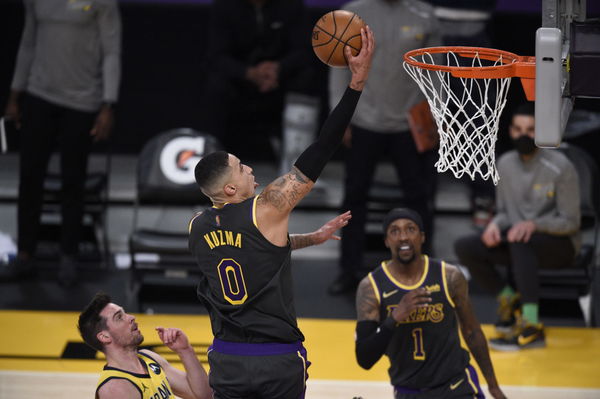 ---
---
Kyle Kuzma, Lakers' up-and-coming star, has been in the thick of the news surrounding the reigning champions. The Lakers flamed out of the 2021 NBA playoffs, as they, the 7th seed, succumbed to the Phoenix Suns in 6 games. Apart from injuries to the LeBron-AD duo, the gaps in the LakeShow's roster were glaring.
ADVERTISEMENT
Article continues below this ad
The apparent 'upgrades' which the Lakers claimed they acquired the last off-season could not show up big in the playoffs. In fact, GM Rob Pelinka, after having put together a championship roster on the fly in the 2019-20 season, tried to pull off another blinder.
But, with their early elimination, this season would have surely taught the Purple and Gold a valuable lesson – championship experience trumps all else!
ADVERTISEMENT
Article continues below this ad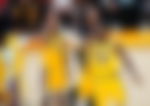 Even though all fingers pointed to injury in the Lakers' elimination, players like Dennis Schroder, KCP, and Kyle Kuzma failed to show up when it counted the most. The Lakers' season has been as inconsistent as Kyle Kuzma's performance!
The Kyle Kuzma dilemma
Kuzma recently completed 4 years as a Laker. In fact, the Lakers retained him over Lonzo Ball, Brandon Ingram, and Josh Hart in the Anthony Davis trade as the management showed faith based on his 2018-19 season. Kuzma averages 15.2ppg/5.6rpg/1.9apg shooting it 45% from the field.
Kuzma was also part of the Lakers championship run last season. And even though he is heavily criticized for inconsistent performances with the Purple and Gold, his track record suggests otherwise, when the chips are down!
On the contrary, in stretches with both Anthony Davis and LeBron James out, he averages 16.8ppg/6.8rpg while taking over in bulk scoring. Kuzma has borne the brunt of the criticism this season, with most league experts calling him a misfit with the Lakers.
The rising star's name is frequently included in trade rumors for either a Kemba Walker, DeMar DeRozan, or any other signing the Lakers aim to pull off!
I talked to Kyle Kuzma about wanting a more consistent role next season, why he saw the Suns as a championship team and more https://t.co/r6cO7DrUA7

— Tyler Conway (@jtylerconway) July 8, 2021
Kuz Control, all about consistency –
When asked about the Lakers season, Kuzma said – "A little bit of everything. Injuries throughout the season, changing roles, certain guys in the lineup, certain guys not in the lineup. The NBA season is already mentally draining, and when you have a lot of that, it just adds to it."
Referring to a lack of consistency which fans and league analysts have been berating him about, Kuz responded – "My biggest thing is I just want to play within a consistent role. If I have that ability, I'll be able to showcase what I can really do.
He talked about the importance of a balanced roster, saying – "There were parts of this year—and even anywhere else in my career—when I'm in a consistent space, I'm out there handling the ball, making teammates better, scoring, shooting, defending, rebounding. I think if I'm in that space, I'll be good."
Was this season his last in Hollywood?
He'll, I would trade Kyle Kuzma for J. Cole. … I'd take DeMar DeRozan.

Lakers need someone that doesn't have to be spoon-fed by LeBron all the time. DeRozan can create for others, get his own shot, defend and he's tough. I like it. pic.twitter.com/sun8v7K8lX

— shannon sharpe (@ShannonSharpe) July 6, 2021
NBA analysts around the world have hailed a trade that would send Kyle Kuzma and Montrezl Harrell and the 22nd pick to San Antonio for DeMar DeRozan, as L.A. searches for a 3rd star. While this may provide the consistency and higher role and playing time Kuzma is asking for, he'd be way off from title contention.
ADVERTISEMENT
Article continues below this ad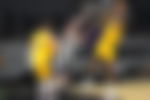 From the Lakers' point of view, with players like Alex Caruso and Horton Tucker entering free agency this year, the Lakers may sign off on a trade that sends Kuz packing from L.A. to give them the financial leverage.
And given Kuzma's recent demands, following a torrid season with the purple and gold, it may be time to finally severe the ties! To answer the question, yes, his time in Hollywood has ended! At least, Laker Nation would like to think so!
ADVERTISEMENT
Article continues below this ad
Watch this story – Kobe Bryant Stats: Top Scoring Games Of Lakers Legend In Stories