NBA Trade Rumors: Is Carmelo Anthony Headed to Partner With LeBron James at Los Angeles Lakers?
Published 08/02/2021, 5:41 PM EDT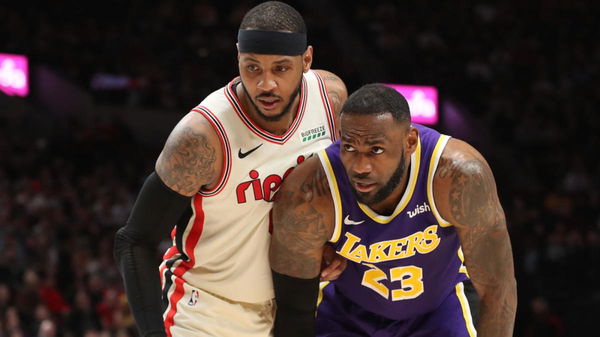 ---
---
Having pulled off a blockbuster trade that will see Los Angeles local Russell Westbrook return to Hollywood, the Lakers still have work to do. While this trade checks the facilitation and scoring boxes, shooting remains their Achilles heel. With a Big 3 assembled, signing knock down shooters who can create the required spacing is key for L.A. One such name picking up pace? Carmelo Anthony!
ADVERTISEMENT
Article continues below this ad
Given the Big 3's domination in transition basketball and executing pick and rolls, veteran 3&D wings will be invaluable in a 'drive and kick' situation. It is also where L.A's wheels fell off in the playoffs, as the team was abysmal from 3, and Melo fits hand in glove, potentially providing a scoring punch off the bench.
ADVERTISEMENT
Article continues below this ad
Although Rob Pelinka is going all out shopping for shooting consistency beyond the arc, L.A's cap space given the Big 3's salary presents thier latest predicament.
Lakers the current favorites to land Hoodie Melo
To plug in their glaring roster gaps, the LakeShow is focused on recruitment via the free agent market. With veteran free agents hunting for their 1st championship, it is likely their fielded veteran minimum offers see mutual interest from aging all-stars.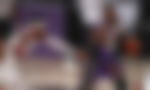 In fact, according to ESPN legend Stephen A. Smith, Melo is eagerly awaiting a call from Pelinka's office very soon. He said – "If they lose Carmelo Anthony it's gonna be to the Los Angeles Lakers. That's where Carmelo Anthony is gonna end up going from what I'm hearing. If indeed he departs from Portland, he'll be a Los Angeles Laker."
Could Anthony don the Purple and Gold in 2021?
While Melo isn't the player he once was in Denver and with New York, he is a 3-pt marksman, who is also an underrated defender. Additionally, his ability to space the floor and stretch the 3, will enable LeBron or Russ to drive and kick, finding him for open shots.
ADVERTISEMENT
Article continues below this ad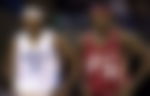 Melo, a 10x All-Star, 10th in all-time scoring with 6 All-NBA selections is still relevant in the modern NBA. Having come into the league with LeBron himself in 2003, this could be an ideal opportunity for him to win his 1st ring.
While his volume scoring has dipped in recent years, Melo still boasts a shooting ability of over 40.3% from 3 & 89% from the FT line, both areas of concern for L.A. However, his playoff performance this season were less promising, with shooting dipping by 4% from beyond the arc.
ADVERTISEMENT
Article continues below this ad
If all these points were not reason enough to sign up to join the Lakers, a chance at playing alongside childhood mate LeBron James is surely incentive enough to take a vet-minimum 1 year deal.
Watch this story – Kobe Bryant Stats: Top Scoring Games Of Lakers Legend In Stories