LaMelo Ball Disregards LeBron James' Passing Skills in Cocky Interview
Published 08/20/2021, 1:00 PM EDT
---
---
LeBron James doesn't seem to be the hot favorite in recent times. First NBA scouts and Executives did not give him a single vote for best player in the league, and now LaMelo Ball has also chosen himself and Nikola Jokic over him in the most elite passers in the NBA. Of course, this is very different from official voting and Melo has a flare for the dramatic. In fact, the young star keeps making headlines for his controversial opinions, and this might add to one of those incidents.
ADVERTISEMENT
Article continues below this ad
LaMelo Ball chooses himself and Nikola Jokic over LeBron James
ADVERTISEMENT
Article continues below this ad
The last time LaMelo was part of something controversial was when he was mocking the need to go to school. Although he justified his statements, later on, this is not an isolated case. The Rookie of the Year and his family are constantly in the middle of something or the other. And now that Melo has thrown another wild sentence out there, he could be waiting for some criticism. But what did he do?
In another interview with GQ, Melo had to go online and answer some crazy questions put up by fans, but he had to do it undercover. Then a question popped up that said, "Rank these players as passers: LaMelo Ball, LeBron James, Ben Simmons, Trae Young, Chris Paul, and Nuggets star Nikola Jokic."
To this, Melo said his name is in the right place, which is first. However, he put Nikola Jokic next, and LeBron James third. How crazy is that?
WATCH THIS STORY: Atrocious NBA Chants By Fans: From Screaming "Kobe's Better" to LeBron James, Calling Kawhi Leonard a "Traitor" & Much More
ADVERTISEMENT
Article continues below this ad
How accurate is the Hornets star's opinion?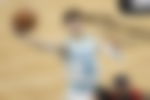 Well, LeBron's passing is probably the most underrate part of his game. But for LaMelo to keep himself over two of the league's most dominant players right now is too much of a stretch, isn't it?
ADVERTISEMENT
Article continues below this ad
But it's not shocking because the 19-year-old is pretty gifted when it comes to this part of the game. And he is almost never lacking confidence, so to him, this might be the most fitting response. However, LeBron fans are definitely not going to swallow this pill very easily. But again, Melo is used to being under fire for his behavior.