'LaMelo is a Problem': Warriors' Draymond Green Hails LaMelo Ball After Blowout Performance
Published 03/01/2021, 6:42 AM EST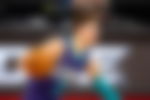 ---
---
LaMelo Ball and the Charlotte Hornets have been one of the most entertaining teams in the NBA. Ever since the Hornets drafted Ball with the third pick of the 2020 draft, Hornets fans have been absolutely buzzing.
ADVERTISEMENT
Article continues below this ad
Ball was probably one of the most hyped-up rookies of the class, but there were certainly some doubts regarding his talents and whether he could replicate the same in the NBA.
The 19-year-old has silenced his critics with some style. He is currently the favorite to win the Rookie of the Year trophy averaging 15.3 points, 6.3 assists, and 6.0 rebounds per game.
ADVERTISEMENT
Article continues below this ad
He has showcased impeccable vision and given his 6'7″ frame, is a decent rebounder of the ball. Ball might have an unorthodox three-point shot, but it has worked for him so far, shooting the league average of 35.3% from the three-point line.
NBA players are starting to take notice. Warriors' forward Draymond Green, after his blowout loss to the Lakers, tweeted about the rookie.
Lamelo is a problem!

— Draymond Green (@Money23Green) March 1, 2021
Although the Hornets recently lost their game against the Warriors, LaMelo was impressive, scoring 22 points, 6 assists, and 7 rebounds against the Dubs.
With his impressive performances, Ball has earned his spot as the starting point guard for the team. He has been fantastic so far as a starter. In the 13 games he has started, he has averaged 20.1 points, 6.7 assists, and 6.2 rebounds per game.
With such an all-round game already, LaMelo is just getting started and has the potential to be one of the best players in the league.
Can LaMelo Ball & Charlotte Hornets make it to the playoffs?
The Charlotte Hornets have been one of the surprise packages of the NBA this season. When they made a marquee signing in Gordon Hayward, it seemed like they were going to be a one-man team.
ADVERTISEMENT
Article continues below this ad
But the Hornets have defied all those expectations. Players like Malik Monk, Terry Rozier, LaMelo Ball, and P.J. Washington have chipped in on the offensive end along with Hayward. The former Celtics superstar is back to his best as he is averaging 21.5 points, 5.4 rebounds, and 3.7 assists per game.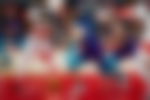 With a young core of players playing selfless basketball, the Hornets have pulled off some surprising victories. The Hornets now have a record of 16 wins and 17 losses and are the eighth seed in the Western Conference.
ADVERTISEMENT
Article continues below this ad
With players like LaMelo Ball and Terry Rozier continuing to improve coupled with their decent enough bench, the Hornets are looking like a solid team in the Conference. Given how uncertain the Conference has looked, the Hornets have a real chance of making it to the playoffs.