Latest Ben Simmons News Is a Cause of Concern for Kevin Durant's Nets
Published 11/13/2022, 11:51 PM EST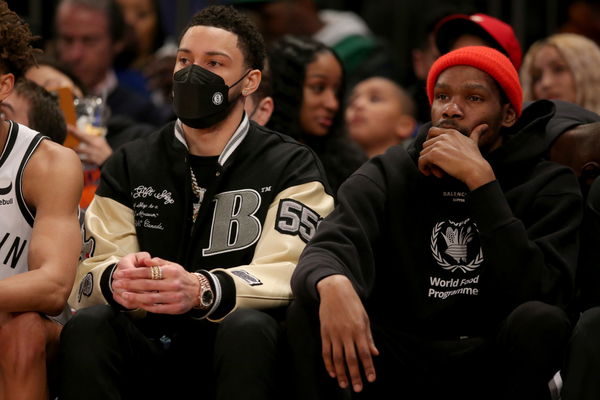 The Los Angeles Lakers at 2-10 face the Brooklyn Nets at 6-7 on Sunday night. LeBron James is just one of the stars that couldn't play due to his health issue. Similar news for Ben Simmons has shocked Kevin Durant's Nets, as they struggle to find footing. He had missed the whole of last season and was undergoing treatment for a different injury. A back recovery still hasn't shown a prime Ben Simmons.
Kyle Goon reported that Ben Simmons is out for today's game. Simmons has already missed more than 4 games because of his sore left knee.
ADVERTISEMENT
Article continues below this ad
The news came as a shock and definitely is a cause for concern for the Brooklyn Nets as the 3x All-Star played on Saturday against the LA Clippers. After a short hiatus, his return wasn't an impressive comeback. He was averaging only 3.3. points per game since his return on November 7th.
Nets add that Ben Simmons is also OUT for today's game.

— Kyle Goon (@kylegoon) November 14, 2022
Just a week before, Ben Simmons had admitted that he was indeed feeling great. But he said that it was his knee issue coupled with a back rehabilitation that had dialed back his performances. He also believed that the two could be related.
"I don't want to make that an excuse", said Simmons who wants to move on from the "injury-prone" tag given to him by the NBA world. He had also assured that it was being taken care of and he was glad that he was able to move. Simmons added that he would continue to do the work to stay healthy and available for the team.
Ben Simmons has not had it easy
Ben Simmons was considered a "once-in-a-generation talent". But he has been unable to put his array of skills to use. When he got traded to Brooklyn Nets, Simmons had hoped that he would bring in a renewed super team with Kevin Durant and Kyrie Irving at its core.
ADVERTISEMENT
Article continues below this ad
With back-to-back setbacks, he has not been in proper form or shape to play for the Nets. The dream team that was Durant, Simmons, and Irving now banks on KD alone.
Kyrie Irving, of course, is serving a suspension that resulted from him promoting an anti-semitic film on social media.
ADVERTISEMENT
Article continues below this ad
Watch This Story: Here's How LeBron James, Ben Simmons, Shaquille O'Neal, and Other NBA Stars Spent Their First Paychecks
The Brooklyn Nets have had a lot to deal with. However, Kyrie Irving and Ben Simmons appear to be their looming problems. Another Nets player, Yuta Watanabe also reported a sprain in his left ankle. Hopefully, the Nets recover from all the trauma they have faced.
Edited By: Pragya Vashisth