'Laughing Stock of the League': Devin Booker Discusses His Long Journey with Suns & What Prepared Him for NBA Finals
Published 07/07/2021, 6:00 AM EDT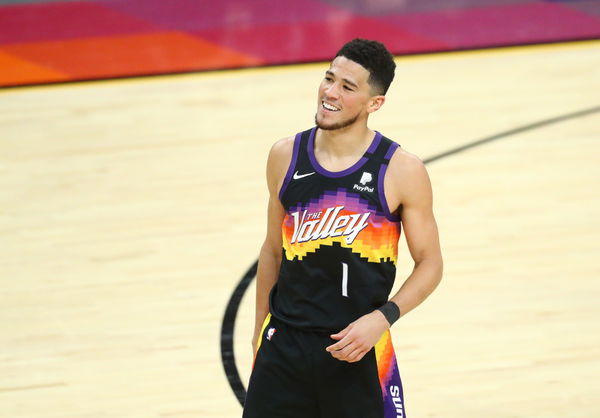 ---
---
The Suns started their NBA finals series just as they did against the Lakers, Nuggets, and Clippers, with a win. In the Phoenix Suns' 53-year history, this was the first time in three finals appearances that they won the opening game. With Devin Booker and Chris Paul, they made history with a statement victory by a 13-point difference.
ADVERTISEMENT
Article continues below this ad
The Bucks pitted Giannis Antetokounmpo in the ring to ensure they don't play shorthanded, but that didn't work either. For 40+ minutes, the Suns fared better than the visitors and that awarded them the game.
ADVERTISEMENT
Article continues below this ad
Devin Booker enjoyed a night to remember
Playing in his first NBA finals, the 24-YO Devin Booker did not let nerves take over his game. The 12-point first quarter followed by 15 more points and 3 steals ensured that he contributed big time. Additionally, his 10/10 free throw shooting put pressure on the Bucks defense who did not want one such man to force fouls.
After the game, Book donned a dashing black suit, giving the feel of an instant date with Kendall Jenner, when he showed up for an interview. Answering a question from Hall of Famer Isaiah Thomas, the star shooting guard expressed, "Things are same in every situation. We've been the laughing stock of the league for five years I've been here now. I always tell people, I wouldn't want the journey or the process to be any other way. I was fortunate enough to be a young player that was thrown into the fire, got the chance to do mistakes. Seeing double teams every night, seeing every type of defense. So now I feel like I've been here before, I've experienced it."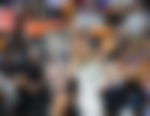 Certainly, a Jrue Holiday (who was effective on Paul George) or PJ Tucker (great against Kevin Durant) didn't harm Booker much.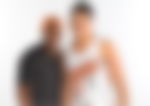 What's coming for the Phoenix Suns?
Now, every prediction & odds favor the Suns and the first game proved it well. If Chris Paul's Q3 explosion was anything to go by, the Phoenix Volley can consume the Bucks even before they wake up. Also, their bench took a hit with Dario Saric injuring his knee, but the 'Cameron duo' combined for 20 points at 50% shooting to cover up.
ADVERTISEMENT
Article continues below this ad
Devin Booker had been waiting to play alongside one such talented unit for the past six years. Further in his address, the star paid gratitude towards the coaches and his father by adding, "Back to just watching the game, loving the game, I've always been a fan. Having a father in my bloodline that played the game, the blueprint for the success for me. So taking it day-by-day, it's a constant pursuit to get better."
The Suns were 25/26 from the free throw line among other stats where they ruled. Can they replicate this in Game 2 and give another chance for Devin to become prouder? Help us know what you think in the comments below.
ADVERTISEMENT
Article continues below this ad
Watch this story – Devin Booker and Others Who Dated Gorgeous Celebrities