League Minnows Attempted Sensational Move for Kevin Durant Before Nets Renewal, Claims Huge NBA Report
Published 08/28/2022, 6:30 AM EDT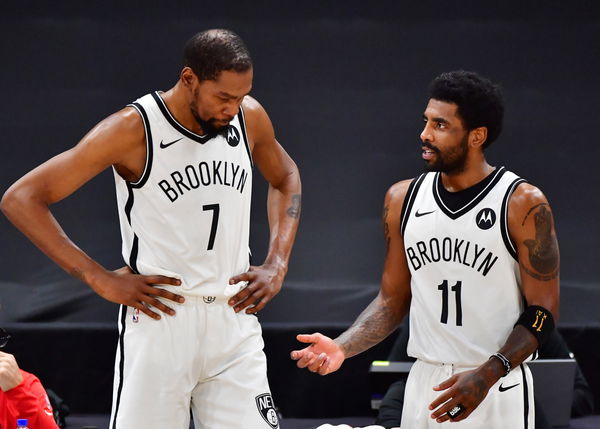 The league has turned upside down since Kevin Durant announced that he was unwilling to play for the Nets at the start of the off-season. KD had recently signed a four-year $198 million deal with the Brooklyn Nets and was part of their long-term plans. Since then, a lot has happened. There were rumors that Kyrie Irving, who opted into his $37 million, could become a Los Angeles Laker.
Kevin Durant was reportedly set to land up in destinations like Toronto, Milwaukee, or Pheonix. All of that was halted when Kevin Durant decided he was going to play for the Brooklyn Nets again.
ADVERTISEMENT
Article continues below this ad
It appears the KD sat with the GM, owner, and coach Steve Nash and the two parties have decided to resume their endeavors to continue playing with each other. KD has since retracted his desire to be traded. It appears that the decision is final now, and there are no two ways about it. This, however, did not stop the New York Knicks from enquiring about the star.
Reportedly, the steep price discouraged the New York Knicks from getting involved in a KD trade. This was the potential reason why many other suitors in the NBA, who would usually jump at the chance of signing a free-agent KD, never seriously made an offer, and trade talks never proceeded.
Shams Charania reveals a Kevin Durant rumor
Shams revealed an NBA rumor about the New York Knicks and their neighbor, the Nets having last-minute discussions about the potential trade of Kevin Durant. It appears that the Knicks were never the favorites in contention for the star. There were some talks, and they dissolved as both parties understood that the assets were not proportionate.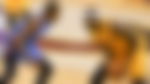 Shams Charania said, "The Knicks did make calls on Kevin Durant, from what I'm told. But I think both sides were cognizant they didn't really have enough."
The Nets were looking for multiple first-round picks and draft capital that teams were not comfortable parting with for KD. It was rumored that the Nets were interested in what the Toronto Raptors had to offer, but Scottie Barnes was not involved in any potential exchanges, and that disinterested the Brooklyn Nets.
Another missed opportunity for the Knicks?
ADVERTISEMENT
Article continues below this ad
The Knicks narrowly missed out on a few of the greatest NBA pairings out there. The franchise has been paired with players like Dame Lillard, Zion Williamson, and Stephen Curry. Moreover, the one that would haunt them the most is that they could have had Kevin Durant and Kyrie Irving back in 2019, but the two decided to play in Brooklyn.
Steve Nash, Joe Tsai and Sean Marks met with Kevin Durant and Rich Kleiman in Los Angeles on Monday and have decided to move forward with partnership, Nets say.

— Shams Charania (@ShamsCharania) August 23, 2022
ADVERTISEMENT
Article continues below this ad
WATCH THIS STORY: Michael Jordan, Tom Brady, Arnold Schwarzenegger, and Tiger Woods Shared A Medical Practice That Helped Them Even At The Prime Of Their Careers 
Only time will tell if the Nets have made the right decision or if the Knicks dodged a bullet. As of now, KD is staying, and Irving looks like he will feature alongside.