"LeBron in Year 20 Is What Prime Carmelo Anthony Was": LeBron James Forces "Disrespectful" Wave in NBA World With Monstrous Successes
Published 01/03/2023, 5:30 AM EST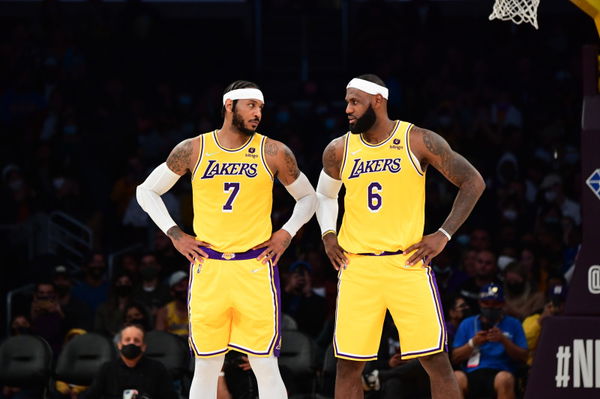 Los Angeles Lakers legend LeBron James is undeniably one of the greatest active NBA players. He is also a strong contender for the all-time great category as well. Meanwhile, James impressed his fans with his recent stunning performances on the hardwood which resulted in fpraise flooding from the fans. However, a comment from a fan attracted a lot of heat from the NBA world. As the comment disrespected former teammate of James, Carmelo Anthony. The fans took to Twitter to show their dissent over the comment.
38-year-old Carmelo Anthony has played 20 seasons in his illustrious career for various franchises. He majorly represented the Denver Nuggets and the New York Knicks. Anthony also teamed up with James for the Lakers in the 2020-21 season. However, Anthony is a free agent this season, as he failed to sign a contract with any of the teams.
LeBron James ignites Twitter with his performances
ADVERTISEMENT
Article continues below this ad
King James impressed his fans with two consecutive 40+ points in his last two games. One of the games symbolically served as a birthday treat for the fans.  The gameplay involved a lot of dunks and iconic reverse dunks that left the fans in awe. However, a Tweet from an impressed James fan attracted a lot of heat. The user wrote, "So as it turns out, LeBron in year 20 is what Prime Carmelo Anthony was…"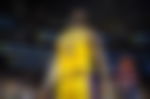 Most of the fans felt that the tweet was disrespectful to Carmelo Anthony. As Melo played over 1200 games averaging a steady 22.5 in his 20-season career. Many fans defended Melo through tweets and demanded a retrieval of the tweet.
Here are some reactions from the NBA Twitter.
I think you guys are forgetting how good prime Melo was this is pretty disrespectful

— Jake Smooke (@SmookeKnows) January 2, 2023
Damn prime Melo won 50 though….where every team had to win 50 to get in.

— TD 🏁🐍 (@TdStromanIII) January 2, 2023
Wasn't the biggest melo fan, but if this is meant to be melo slander in any way, I'm out.

— Alanarcho (@apjr21) January 2, 2023
Sadly for Melo, he is even better.

— NBA Hitman (@NBAHitman1) January 2, 2023
Both were the two best players on the team when they were together. It's ironic you say that

— Trigga Trey (@hoodieskeenasz) January 2, 2023
Despite all the criticisms and drama, James' recent performance proves that he has been at the top of his game.
ADVERTISEMENT
Article continues below this ad
James finds himself 'In the zone'
King James got his groove back with his stunning game on his birthday. He scored a staggering 47 points with 10 rebounds against the Atlanta Hawks and continued his song in the Monday night game. He scored 43 points with 11 rebounds against Charlotte Hornets, taking the Lakers to a (115-121) victory.
Watch This Story – Years Before Calling Himself the Goat, LeBron James Wanted to Honor Michael Jordan, Pushing NBA to Take a Huge Step
ADVERTISEMENT
Article continues below this ad
LeBron James is only 500-odd points short of breaking the all-time NBA points scored record. Do you think James will break the record this season? Let us know in the comments.
Edited By: Gideon Mathson