LeBron James and Jae Crowder: A Timeline of Their Relationship
Published 05/31/2021, 9:30 AM EDT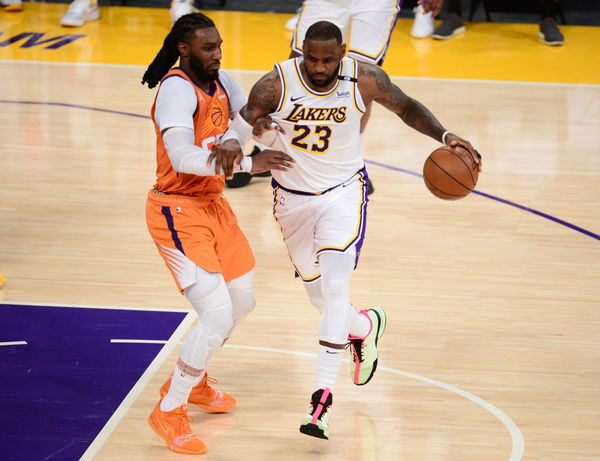 ---
---
The Los Angeles Lakers and Phoenix Suns' first round of playoffs gets more interesting with each game. It's almost like the Suns throw a punch and win a game, then the Lakers punch back harder, and so on. This is, undoubtedly, the most intriguing matchup of all. It has everyone confused as to who will end up coming out victorious. In the midst of all this, the beef between LeBron James and Jae Crowder seems to have come back to life.
ADVERTISEMENT
Article continues below this ad
Crowder and James have had some kind of animosity between one another which was seen most clearly during the NBA Finals last season. Why this story came up was because Bron was recently seen toying with Crowder on the court, and laughing while doing it. This has not only left NBA Fans rolling on the floor, but has also had them discussing what kind of relationship the two share.
Where it all began: LeBron James rivalry with Jae Crowder
ADVERTISEMENT
Article continues below this ad
Crowder and James had some heated moments when the Lakers were playing Miami Heat in Game 1 of the NBA Finals last season. Somewhere during the end of the first half, the two were seen entangled with one another beneath the rim. It is when Crowder slammed the ball out of Bron's hands, on which there was a foul call as well. Both of them were in a brief war of words afterward.
However, when LBJ was asked about what he feels about playing against Crowder, all he stated was, "It was like every other individual I went against in this playoff run."
Crowder is known to be someone not easily liked and his beef with LeBron dates way back. They locked horns back when LeBron-led Cleveland Cavaliers were up against Crowder's Boston Celtics in the Eastern Conference Finals, 2017. Eventually, Crowder teamed up with Bron and the Cavs next season. However, his stay wasn't very long as he was traded to the Utah Jazz.
WATCH THIS STORY: Stephen Curry, Bradley Beal & Other Stars That Deserve to be on Better Teams Next Season
This trade prompted reactions from both of these players. Crowder first threw shade at the Cavs; Bron also subtly responded. He said some players traded from the Cavs just didn't work as hard as needed to help the team get wins.
Is the tension between them rising this season?
Their feud has added another chapter to its story even in Game 4. During the fourth quarter against the Suns, James was driving to the hoop when Crowder caught hold of his shoulders while he was on his way up to pull him down. Although a foul was called, it wasn't considered flagrant.
Right after this incident, Bron was telling Jae, "Get the f*** off me". He was even seen fighting with the refs that this foul should have more than just two free throws. As the tensions continue to rise, how will the two handle it in the next two games?
ADVERTISEMENT
Article continues below this ad
Will this die down? Or will the pressure of winning this series get to them and make this rivalry worse?
ADVERTISEMENT
Article continues below this ad