LeBron James Can't Contain His Laughter With Carmelo Anthony's Reaction to Pistons' Odd Ritual
Published 04/01/2021, 3:39 PM EDT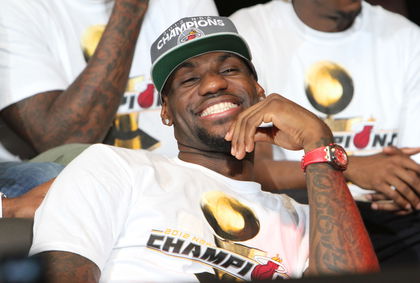 ---
---
There are a few better off-court friendships in the NBA than the one shared by Carmelo Anthony and LeBron James. So, it is not surprising that one reacts to the other's actions. And that is exactly what happened when Carmelo Anthony expressed his disgust at one of the team's odd pre-game rituals.
ADVERTISEMENT
Article continues below this ad
Portland Trail Blazers traveled to Detroit to take on the Pistons. While the hosts can't rattle their opponents on the court like the olden days, they still try to follow some intimidation tactics as they did with the Blazers on Wednesday night.
The Pistons used their fog machine to add some theatrics to the pre-game introductions. It was an attempt to get a mere 750 home fans riled up. However, it failed to amuse Carmelo Anthony as he took to Twitter after the game. With his reaction, he had his fellow banana boat crew member, LeBron James, laughing out loud.
ADVERTISEMENT
Article continues below this ad
The fog machine must have been a hindrance to players' visibility. Though it did not deter the Blazers from running all over the home team.
They recorded a 124-101 win over the Pistons. Carmelo got in on the act too, perhaps motivated by all this, as he scored 16 points in just 22 minutes of on-court action.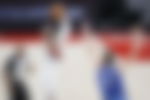 Pistons' fog machine gained notoriety before LeBron James' reaction
It is not the first time that the fog machine at the Pistons' home arena is making the headlines. Rolling the tape back to the 2012-13 NBA season when they hosted Houston Rockets, a similar machine had a major malfunction.
Since the game was played late in the month of October, the hosts had big plans to celebrate Halloween. They planned to throw a grand spectacle on the court during the half-time show. However, the grand celebration inadvertently started a minute too early.
ADVERTISEMENT
Article continues below this ad
With 58 seconds remaining in the second half, clouds of smoke could be seen coming out from behind the basket. It was because one of the fog machines started ahead of the schedule. The employees at the arena had to step in and it halted the play.
Never fail to entertain us, Dear Fog Machine at Little Caesars Arena, never do.
ADVERTISEMENT
Article continues below this ad