LeBron James "Disrespecting" Teammate Sends NBA Twitter Into a Frenzy
Published 04/11/2022, 1:45 AM EDT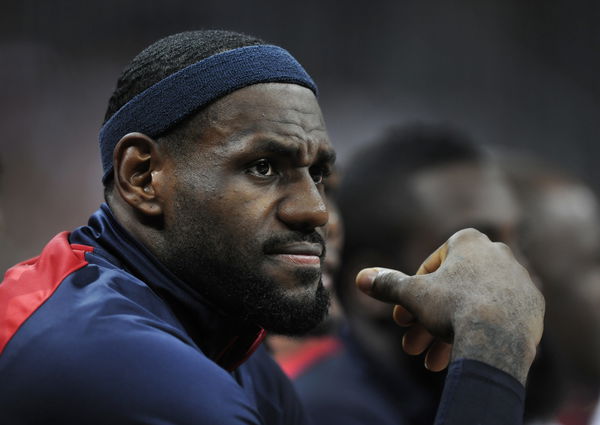 LeBron James and the Los Angeles Lakers did not have the greatest season. After making huge trades in the offseason, the Lakers were expected to win it all. But they ended up not only missing the playoffs, but they didn't even make the play-in tournament. And Friday's game summed up their entire season.
ADVERTISEMENT
Article continues below this ad
With their playoffs hopes gone, Friday night's win over OKC meant nothing. Half the players had suited up while the other half didn't even put up an effort. The fans also couldn't care less about the win. And amidst all this, there was something that happened that caught everyone's attention.
ADVERTISEMENT
Article continues below this ad
LeBron James was coming back to the bench with a drink in his hand when he saw Bazemore sitting in his seat. He then made him get up and went on to give handshakes to Russell Westbrook, Avery Bradley, and D. J. Augustin. Bazemore then lifted his hand to dap up LeBron, but LeBron missed him completely. Bazemore then slapped his own hand to save face.
NBA Twitter goes nuts after LeBron James leaves teammate hanging
The NBA fans went crazy after seeing this. They made fun of Bazemore for being ignored by LeBron and they even called out Bron for not dapping up his teammate. Here are the best reactions:
a guy like me would've told lebron to run my 1s

— Book4MVP (@CantGuardBook1) April 10, 2022
Legm put together the worst team in nba history I wouldn't want him doing any trades lmao

— RaidersIn4 (@LavineMVP8) April 10, 2022
How did the Lakers' season implode?
ADVERTISEMENT
Article continues below this ad
The Lakers started off as pre-season favorites with LeBron, Anthony Davis and Russell Westbrook as their stars. Their crew also consisted of Dwight Howard, Rajon Rondo, and Carmelo Anthony, all future Hall of Famers. Despite being the oldest squad in the league, the Lakers were confident that will be able to overcome anything.
But as soon as the season started, it became clear that the team had many problems. On top of that, Anthony Davis was injured and was out for a long time. He missed over half the season. But it seemed like the Lakers will make the play-in tournament at least. ADVERTISEMENT
Article continues below this ad
Then after the all star break, the Lakers imploded. They had the second worst record among all the teams in the NBA and were bounced out of the play-in tournament. At the end, it just seemed like the Lakers gave up. The Lakers will need to rethink how they approach next season and not make the same mistakes as usual.
WATCH THIS STORY: NBA Legends who think LeBron James is the GOAT