LeBron James Domination of Giannis Antetokounmpo In Head-to-Head Games Reachest A Historic High
Published 01/22/2021, 1:48 AM EST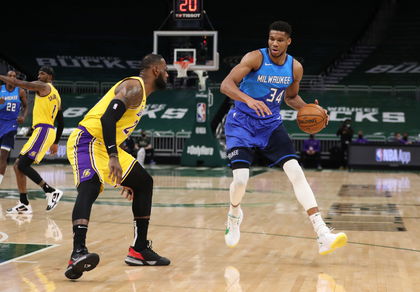 ---
---
LeBron James is a four-time regular-season MVP and a four-time Finals MVP. Giannis Antetokounmpo is the reigning two-time regular-season MVP, winning the 2020 award over LeBron. The two players are easily at the absolute top tier of individual players in the NBA, along with select others.
ADVERTISEMENT
Article continues below this ad
Every time we see former MVPs clash, it is an exciting game. The Lakers and Bucks met each other tonight and the game went in favor of LeBron and LA. However, LeBron has also faced Giannis when they were Eastern Conference rivals during LeBron's time in Cleveland.
Over their careers, the pair have faced each other 21 times and LeBron has a massive advantage. While it isn't like the 28-game winning streak LeBron had over Kemba Walker, this is formidable in itself. LeBron has the second-best winning percentage over another league MVP in individual games. He is behind Kareem Abdul-Jabbar's 78.3% win percentage over Hakeem Olajuwon.
ADVERTISEMENT
Article continues below this ad
Correction to an earlier note: LeBron James is 16-5 (.762) in his career vs Giannis Antetokounmpo.

That's tied for the 2nd-best by one MVP vs another (min. 20 games):

*Kareem Abdul-Jabbar had a .783 win pct vs Hakeem Olajuwon

*Bill Russell had a .762 win pct vs Willis Reed pic.twitter.com/Ng46rTNC8i

— ESPN Stats & Info (@ESPNStatsInfo) January 22, 2021
While LeBron has this record, it is important to know that Giannis's ascension happened recently. LeBron has been in his prime for the entirety of Giannis's career, while Giannis is just scratching the surface. This percentage is bound to change over the next few seasons.
LeBron James: Still the King?
ADVERTISEMENT
Article continues below this ad
The question around whether LeBron is still the King is one we see every season. The man has to start declining at some point in his career. This season genuinely gave a lot of people momentum in this argument. LeBron is averaging career-lows in minutes played and his scoring output has also come down.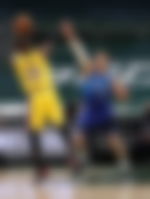 However, LeBron James listens to everything. After their shock loss to the Golden State Warriors, where LeBron played poorly, he came out with a 34-point performance against Milwaukee. This included a game-clinching buzzer-beating three with less than two minutes left in the game.
ADVERTISEMENT
Article continues below this ad
Giannis is a phenomenal player himself. However, he is still developing his game. He got the athleticism and ability to drive down perfectly. The second he develops a more steady shot, this rivalry can be flipped on its head. For tonight, King James does reign supreme.