LeBron James' Former Teammate Dwyane Wade Explains Why He Considers Michael Jordan as The GOAT
Published 03/23/2021, 5:01 AM EDT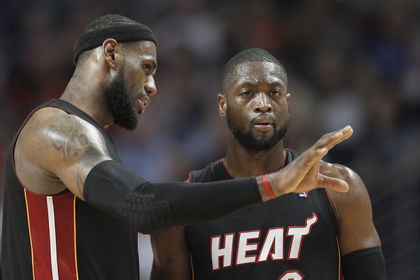 ---
---
The debate of who is the G.O.A.T. in the NBA is a never-ending one. While names like Kobe Bryant and Kareem Abdul Jabbar have been thrown into the mix, currently, there are two names that have remained constant in the ongoing debate – LeBron James and Michael Jordan.
ADVERTISEMENT
Article continues below this ad
While Jordan might have been the most dominant scorer the league has ever seen and has won six NBA championships, LeBron also makes a strong case with his individual accolades, longevity, and all-round play.
Time and again, pundits and fans from all around the world have had constant discussions regarding the same. The latest to join this list is 3-time NBA champion, Dwyane Wade.
ADVERTISEMENT
Article continues below this ad
Dwyane Wade reveals why Michael Jordan is his GOAT over LeBron James
Dwyane Wade is a Hall of Famer in his own right. Having led the Heat to their first championship in 2005 as a 23-year-old, Wade became an instant superstar for the team. He later won two more championships alongside LeBron James and Chris Bosh in 2012 and 2013.
The 13-time All-Star recently spoke on the 'I am Athlete' podcast, and the 39-year-old revealed why he considers Michael Jordan as the GOAT over LeBron James.
"I come from the Jordan era, so I'm biased," he said. "Michael Jordan will always be my GOAT… I played basketball because of Michael Jordan… All of us have our own individual opinions… LeBron is going to be the GOAT for a lot of generations… [Jordan] will be my GOAT… I made it out of the hood because I seen a dude, number 23 play the game of basketball at a level where I was like I want to do some of that."
Wade might have played with Bron for four years but is certainly well connected to his Chicago roots. Growing up in Chicago, D-Wade grew up as a Jordan fanatic. He even started playing in the same position as Jordan.
Years later with three championships, a Finals MVP trophy, and 13 All-Star appearances, 'Flash' had a splendid career and is arguably the third-best shooting guard of all-time only behind Jordan and Kobe Bryant.
Wade speaks about James' career
The Wade and LeBron-led Miami Heat were a must-watch whenever they played, especially with the showmanship that D-Wade and the L-Train brought to the court. Wade also opened up on how he feels about LBJ and his amazing career and said:
"LeBron is one of my good friends, I have so much respect for what he's doing now, what he's done, and what he will eventually do… It will definitely be an argument that needs to be had. If LeBron ends up the number scorer of all-time, top five in assists and top five rebounds, with four, five, or six championships, you cannot do nothing but have the conversation of who is the GOAT."
ADVERTISEMENT
Article continues below this ad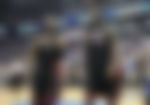 Wade also explained why it is difficult to have the GOAT conversations right now and said, "It's hard to really have the conversation while he's still putting on that jersey. When he's done, his statistical line is going to be the greatest we've ever seen."
Given how great LeBron James' career has been, it is understandable why he is often compared to MJ. Currently the 36-year-old is in pursuit of the fifth championship of his career.
ADVERTISEMENT
Article continues below this ad
The GOAT debate is here to stay. Regardless of who fans choose, both these stars have undoubtedly had an enormous impact on the game of basketball.