LeBron James Gets His Leg Pulled After Picking Luka Doncic in His NBA All-Star Team
Published 03/05/2021, 1:00 PM EST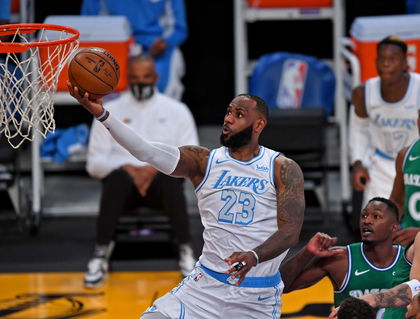 ---
---
For a second-year in a row, the Dallas Mavericks superstar Luka Doncic will play with LeBron James in the All-Star Game. This is after Luka Doncic dismissed himself as a candidate for the All-Star Team and was completely thrown off when chosen over Damian Lillard.
ADVERTISEMENT
Article continues below this ad
It has a lot to do with the Mavs' slow start to the season. With Porzingis consistently sitting out of games, it had left Luka and the Mavs hanging on in the West for dear life. However, the tables have turned since then, and the Dallas Mavericks have found their way to the top eight teams in the West.
LeBron's third overall pick: Luka Doncic
ADVERTISEMENT
Article continues below this ad
In the 2021 All-Star Draft, LeBron James got to pick first because he led all the players in fan voting. So, prior to picking Luka Doncic, he selected Milwaukee Bucks' Giannis Antetokounmpo and Golden State Warriors' Steph Curry. And Kevin Durant chose his teammate Kyrie Irving from the Brooklyn Nets and 76ers' Joel Embiid.
As he announced Luka's name, he called him something fascinating. He said, "With my third pick, I'm going to go with 'Luka Magic' from the Dallas Mavericks."
Doncic's return to team LeBron is a testament to how much he has achieved so early in the league. He was also the player that was most anticipated to win the MVP award this season as well. However, because of the team's performance so far, he isn't in the MVP race right now.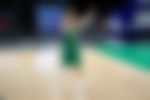 How Doncic was needed in the other team LeBron
After Bron made his pick, Dwyane Wade jokingly stated, "You still got him, Bron. You may not got him on Team LeBron, but you got him on Team LeBron."
This made everyone laugh because it was a reference to James revealing on 'Road Trippen', that he wanted to launch a Team LeBron brand under Nike and sign Luka with it. However, Luka ended up deciding to sign with the Jordan brand instead.
ADVERTISEMENT
Article continues below this ad
This just goes to show how much LeBron believes in him. And although Luka didn't think he deserved to be on the All-Star team, that wasn't the popular opinion. The Mavericks stand at an 18-16 record in the Western Conference and on a three-game winning streak as well.
Let's see how LeBron's team fairs in the All-Star Game with Luka Doncic, Nikola Jokic, Stephen Curry, and Giannis Antetokounmpo.
ADVERTISEMENT
Article continues below this ad
Read also- Mark Cuban Reveals the Exact Moment Dallas Mavericks Understood Luka Doncic Was Special