LeBron James, Magic Johnson & Other NBA Players React to Milwaukee Bucks' Mind Blowing Upset Over Brooklyn Nets
Published 06/19/2021, 11:55 PM EDT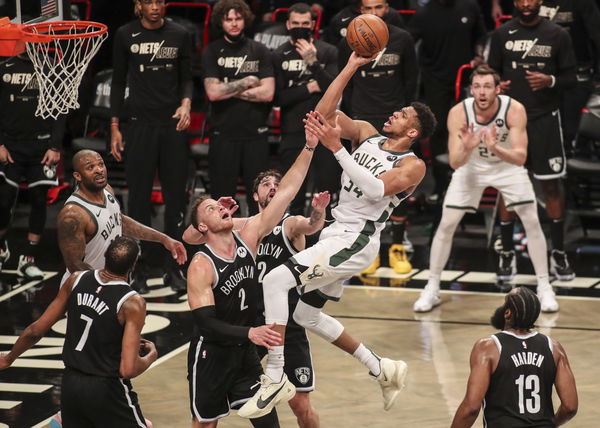 ---
---
The audience labeled Brooklyn Nets vs Milwaukee Bucks as the most interesting playoff series, and rightly so. After the Nets started off with a lead in the series, the Bucks ensured that they didn't let them win so easily. After tying the series 2-2, they ensured the Nets were taken to an intense Game 7 in a winner-takes-all. However, the Bucks could pull off another magical upset in this crucial game and the match ended 113-111 in OT- a victory for the Bucks.
ADVERTISEMENT
Article continues below this ad
Milwaukee Bucks advance to Conference Finals
This was supposed to be the Brooklyn Nets' first Eastern Conference Finals appearance since 2003. The Game was completely dominated by the Nets at first, as they won Games 1 and 2. In fact, they were the favorites to win the title this season.
ADVERTISEMENT
Article continues below this ad
However, injuries were their biggest foe against Milwaukee Bucks. James Harden was suffering from a hamstring injury and wasn't in his best form. Kyrie Irving was pulled out because of an ankle injury after Game 2 and while Nets fans had full faith in Durant to drag them across the finish line, alone, their hopes were brutally crushed.
Nobody expected Milwaukee to rise up against the 'Big Three' of the year. Even when the trio was formed, they were deemed as an unstoppable force, but the Bucks triumphed and even Twitter can't believe its eyes.
These NBA playoffs just get better and better. You watchin', Bron?

— Skip Bayless (@RealSkipBayless) June 20, 2021
I'm so happy for Giannis to get the monkey off his back by leading his team to a victory on the road in a tough environment. Giannis scored 40 points 13 rebounds and played like a true superstar!!

— Earvin Magic Johnson (@MagicJohnson) June 20, 2021
Notice that KD gave it up to Harden on that last possession and he gave it right back? KD was saying, "I've got nothing left." Harden basically responded: "I want no part of a last shot."

— Skip Bayless (@RealSkipBayless) June 20, 2021
I will not tolerate any KD slander on here anymore!!! That man did everything he could and more…with that said Bucks in 7 got Damn it! Carry the hell on…

— Kendrick Perkins (@KendrickPerkins) June 20, 2021
Kevin Durant is Superman, but even Superman couldn't beat the Legion of Doom by himself.

— Marc J. Spears (@MarcJSpears) June 20, 2021
Kevin Durant's spectacular jump shot tied the game with 1 second left! He has 48 points, the most in NBA Game 7 history!

— Earvin Magic Johnson (@MagicJohnson) June 20, 2021
And we said it would be Lakers vs Nets in the NBA finals 😭😭😭 jokes on us

— Qias Omar (@QiasOmar) June 20, 2021
Are u kidding what a difficult shot from KD thought 💭 for a second was 3 ball 🏀

— Brad Gilbert (@bgtennisnation) June 20, 2021
What went wrong for the Brooklyn Nets?
Game 7 was a constant tug-of-war. One minute the Bucks had a lead, and the next it was the Brooklyn Nets. Although it was the second half where the Bucks really turned it around.
ADVERTISEMENT
Article continues below this ad
Giannis Antetokounmpo was more accurate with his shots and even had a three-point battle with Durant. Despite fans booing him in the arena and mocking him for his free throws, he ended the night with a whopping 40-point performance and 12 rebounds.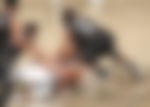 This was less than Kevin Durant, who had another 48-point performance, but it wasn't enough. The Nets felt Irving's absence more than ever as they collapsed steps away from winning the game. The two teams held on for dear life and dragged the game into overtime, but Harden missed his chance at a championship again. Something his fans have been dying to witness.
ADVERTISEMENT
Article continues below this ad
Better luck next time for the Nets. Now the Bucks await the result for the 76ers vs Hawks Game 7. Who do you think will they be facing for the