LeBron James Seemingly Tried To Rat Out Stephen Curry When He Was Hit With $25,000 Fine for Big Offense
Published 10/04/2022, 4:00 PM EDT
Stephen Curry and LeBron James are the two modern-day NBA greats. They have played against each other in the league finals several times. LeBron James led the Cleveland Cavaliers in four-straight NBA finals between 2015-2018. He faced Stephen Curry's Golden State Warriors in the finals on all occasions. However, Stephen Curry managed to emerge as the victor more times than the Lakers star. 
ADVERTISEMENT
Article continues below this ad
Back in 2016, the Golden State Warriors were leading the finals series by 3-2. The Cavaliers were ahead in the fifth game when the referee gave Steph a foul. The four-time NBA champ got quite frustrated, and he threw his mouthguard in anger. LeBron James was standing right next to him. The Lakers star tried to rat Stephen Curry out by bringing the incident to the referee's attention.
ADVERTISEMENT
Article continues below this ad
Stephen Curry has quite a calm personality. However, the Warriors' point guard has showcased some heated behavior during pressure situations. Curry was quite furious on several occasions, and his actions resulted in hefty fines. 
Stephen Curry throws away his mouth guard in anger
In 2016, the Cleveland Cavaliers were ahead of the Golden State Warriors by 99-87 in the fourth quarter when Curry lost his cool. The Warriors were under a lot of pressure with just a little over four minutes left on the clock. Stephen stole the ball from LeBron James and began running towards the hoop when the referee called a foul.
The eight-time All-Star got extremely frustrated as he took off his mouthguard and threw it toward the referee. Unfortunately, the mouthguard went in a different direction and hit a fan. 
ADVERTISEMENT
Article continues below this ad
LeBron James was standing right next to Curry when he burst out in anger. As James was walking away, he saw the whole thing and tried to complain to the referee by pointing at Curry. Curry was extremely furious as he started walking toward the referee. and his teammates had to take him away.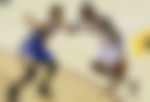 Eventually, the 2022 Finals MVP was fined a hefty $25,000 for throwing his mouth guard toward a spectator in anger. It was quite hilarious how LeBron James quietly tried to rat Stephen out for his actions. It was the second time Steph was fined for throwing his mouthguard away during the 2016 season.
ADVERTISEMENT
Article continues below this ad
Watch This Story: K-Pop star saga of BTS meets Stephen Curry and the Warriors
Unfortunately, the 34-year-old could not get rid of the habit. He was fined $50,000 when threw his mouthguard at the referee the next season.