'Bron Has Shed Some Weight': NBA Twitter Goes Berserk as LeBron James Goes Hard in the Gym After Stephen Curry Leads the Warriors to NBA Finals Win vs Celtics
Published 06/19/2022, 2:45 PM EDT
By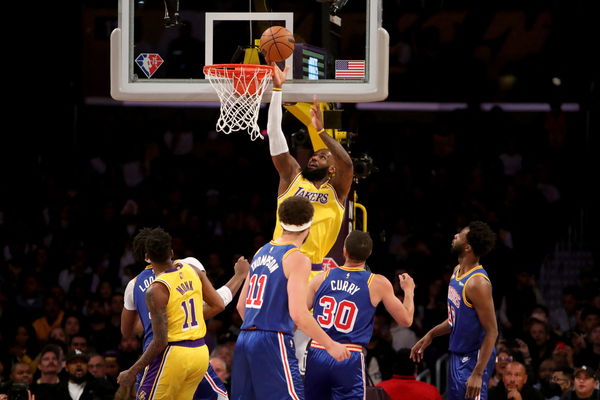 Los Angeles Lakers superstar LeBron James was spotted draining three-pointers and practicing mid-range shots ahead of the NBA finals. As Golden State Warriors win their 4th championship, he was putting in an intense workout in New York. Former teammate Kevin Love also worked out with him.
However, NBA fans on Twitter were going crazy due to his physique. It appears James has lost some weight and fans across Twitter were on a rampage watching the 4-time champion practice. The video racked up over 1.2 million views and 20,000 likes. As expected, it was a mix of positive and negative comments. Here are some of the reactions:
ADVERTISEMENT
Article continues below this ad
This dude really Thanos
He won't stop till he can do everything😂
He can already pass like Magic, score like Jordan, dominate like Shaq and now he tryna shoot like Curry.
Da GOAT.

— sackchaser💰 (@elTswanzoo) June 18, 2022
Where's footage of AD, Melo, Russ and the rest of the team doing the same thing??? We know Lebron will show up.

— Gent (@GGent__) June 18, 2022
Golden State wins the title yesterday and still sports center talks about a guy who didn't make the playoffs

— Stephen Gass (@racs1881) June 17, 2022
If the Lakers had the kind of roster that would allow Lebron to play 30-35 minutes a game, he would be able to play hard on both ends of the floor (he wouldn't have to conserve energy) and he would be dominating in year 20. Unfortunately, the Lakers will not make that happen

— Nineteen Promises (@NineteenPromis1) June 17, 2022
The ex-Cleveland duo was taking several post-ups and mid-range jumpers. LeBron James looked as swift as ever, even at the age of 38. He is entering his 20th season and that too as an MVP-level player. His longevity is credited to how he takes care of himself in the off-season.
LeBron James promises to never miss the playoffs again
LeBron James is always one of the most trending topics all year round. Usually, it is because of how the star plays and if he wins the chip or not, but James has missed the last 2 NBA finals and 2 out of the last 4 playoffs. And he has only missed the playoffs a total of 4 times in his career. The 'Chosen One' has been to the NBA finals 11 times, 8 of which were consecutive.
The Lakers failed to make the play-in tournament as they finished 33-49. James recently tweeted that he will never miss another playoff again and admitted that it hurts to just sit and watch the playoffs.
READ MORE: LeBron James 2022: net worth, salary, and endorsements
With Stephen Curry winning another Championship with the Golden State Warriors and adding to his resume the 4th ring and the finals MVP, a lot of fans think LeBron's legacy is at stake.
Will the Lakers be a contender next season?
On the Contrary, teammate Anthony Davis revealed in a recent video that he hasn't made a single bucket since April 5th. Fans also mocked Anthony Davis on Twitter and pointed out the contrast between the mentalities of the two Lakers superstars.
ADVERTISEMENT
Article continues below this ad
His offseason is when he pushes the limits and makes sure he is locked in for the next season. LeBron James is the only active player to have 4 titles other than the Warriors' superstars.
WATCH THIS STORY: Nba basketball news billionaire LeBron James best ever-investments over the years
ADVERTISEMENT
Article continues below this ad
Even though LeBron has established himself as one of the greatest, Curry has also inched his way into the conversation. With James being in peak shape, the 2022-23 season looks quite promising for the fans. But he can't do it alone.
Do you think LeBron James can win the title next year? Let us know in the comments.