LeBron James to Germany? Major Update Has Lakers Teammate and Fans Reacting in Kind: "I Don't Know if This is Good or Terrible"
Published 03/18/2023, 6:12 AM EDT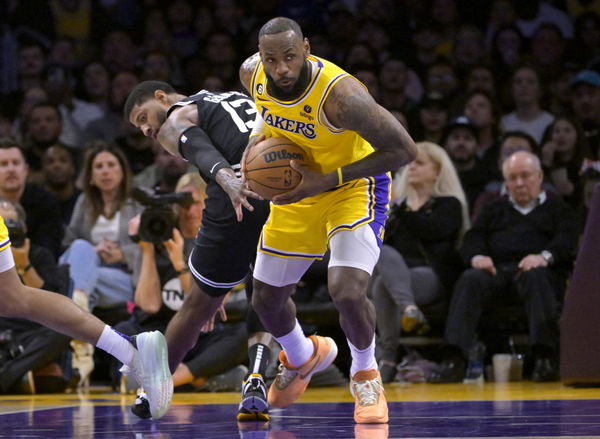 NBA superstar LeBron James started the season off great despite turning 38 recently and is averaging close to 30 points per game. However, similar to last season, James has been struggling with multiple injuries. The four-time NBA champion suffered a foot tendon injury around three weeks ago. The injury has kept him sidelined for ten straight games for the Los Angeles Lakers who are fighting for a play-in spot. Their chances of making it rely a lot on the health and return of their main man, LeBron.
Recently, James was shockingly accused of taking performance-enhancing drugs. Amidst this, there are reports that suggest he has made a trip to Germany to get treatment. Interestingly, one of his teammates spilled the beans about the four-time NBA MVP's trip.
Dennis Schröder's update on LeBron James
ADVERTISEMENT
Article continues below this ad
The Los Angeles Lakers have been struggling without their superstar LeBron James. The Purple & Gold have won 5 and lost 5 during his absence in the last few weeks. Even though it is not entirely bad, considering the importance of the final stretch of games, every game is crucial. So the anticipation about the return of the King is high among the fans. During the Lakers' shoot-around on Friday, point guard Dennis Schröder spoke with the reporters and had an update on James. The German was not ready to say too much, however; it looked like he admitted LeBron was getting treatment from doctors in Germany.
Dennis Schroder on LeBron James' return timeline: "I know. I can't say too much … But German doctors are great. That's all I'm saying" pic.twitter.com/JV1zED2mqX

— Dave McMenamin (@mcten) March 17, 2023
Schröder said, "I know. I can't say too much. But German doctors are great." If it is true, this is not the first instance when a Lakers superstar has visited Germany for treatment. NBA legend Kobe Bryant made trips to the country to help with some of his niggling injuries in 2011 and 2013 as well.
According to reports, Bryant underwent platelet-rich plasma treatment known as Orthokine on his right knee. However, the fans are a bit confused with Schröder's somewhat cryptic message.
Fans react to Schröder's comments on James
The Los Angeles Lakers fans were not clear on what to think about the comments of Dennis Schröder. As the point guard's statement about LeBron James was shared on social media, fans flooded the comments section. Here are some reactions:
I don't know if this is good or terrible 😭

— ╰☆☆ ʲẸ𝓷ᑎ𝕚 ☆☆╮ (@BrowBron_) March 17, 2023
Wait does that mean he's got the treatments already and he's good or Dennis want him to get treatments from German Doc.

— ElectroBallz (@Jason14670993) March 17, 2023
Many fans wondered whether James visiting Germany for treatment was a piece of good news or not. Also, some wondered why Schröder said that he cannot speak much about it.
Lebron went to Germany??😭😭 also why can't he say too much?

— Cookie (@Cookie51384063) March 17, 2023
Kobe used to see them all the time for his knees. They are great

— E.P. the Dreamer (@EPtheDreamer) March 17, 2023
ADVERTISEMENT
Article continues below this ad
Kobe did work on his knee in Germany as well. This is encouraging.

— Sako Adajian (@SakoAdajian) March 17, 2023
On the other hand, some recounted Kobe Bryant's visit to the country for treatment and were optimistic about James' return.
ADVERTISEMENT
Article continues below this ad
WATCH THIS STORY – "LeBron James is embarrassing himself "When this NHL player mocked the NBA legend LeBron James amidst his leg injury.
Do you think the Lakers can make the play-in tournament this season? Let us know in the comments.
Edited By: Pragya Vashisth