LeBron James vs Kyrie Irving Feud: How the Teammates Turned Rivals and Much More
Published 02/19/2021, 11:30 PM EST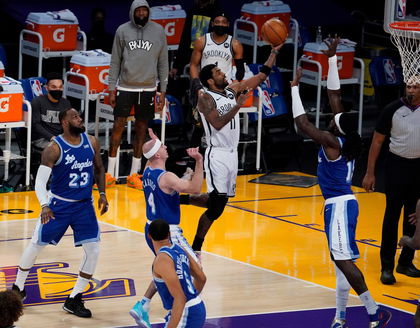 ---
---
LeBron James and Kyrie Irving spent three seasons in the same team, always starting the games together. However, they kept losing their off-court chemistry after every passing year,before one of the two called it quits. But why?
ADVERTISEMENT
Article continues below this ad
LeBron James' unceremonial exit from the Cleveland Cavaliers in 2010 saw the Cavs gasping for another legendary player. In came Kyrie Irving, an overall first pick in 2011, with all the capability to become the face of the franchise.
While Ky was performing, his team wasn't and, on the other hand, Bron had the itch to come back. That was the beginning of the end for them.
ADVERTISEMENT
Article continues below this ad
LeBron James and Kyrie Irving: A winning but fragile duo
Bron made his way back into the Cavaliers in 2014 to take care of the unfinished business, winning a title for the city. This was also the year when a young Kyrie lost his commander-in-chief position to a then two-time NBA Champion.
Overnight, Ky was the second-best, and that did not go down well with him. Looking at LeBron and Kyrie playing together seemed more like looking at Shaquille O'Neal and Kobe Bryant sharing the stage. They were winning games, but something seemed off.
Kyrie, almost eight years younger than Bron, did not like to be the 'son' to a teammate. In fact, he wanted the spotlight. Unfortunately, all he was getting was a big shadow under the stature of King James. 
In those three seasons together, the duo played three consecutive NBA Finals and won a championship. LeBron James averaged 25.6 points, 7.4 rebs, 7.6 assists, and 1.4 steals in those three regular seasons while Ky managed 22.4 points, 3.1 boards, 5.3 assists, and 1.3 steals.
While the difference between their numbers was not huge, the same between their treatment was. This eventually stung Ky as he suddenly left the side for the Celtics.
The "jealousy" that "hurt" them both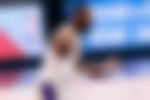 As per Kendrick Perkins, a former player from the same Cavs roster as Bron and Ky, "It almost felt like a sense of jealousy was there on Kyrie's part… a Robin is not going to get the same privileges of a Batman." 
ADVERTISEMENT
Article continues below this ad
After the exit of Kyrie, the younger player went through a short phase of deep-realization when he even called The Akron Hammer and apologized for having left the team. 
Last year in October, Irving had claimed that Kevin Durant is the clutch player he would trust for a game-winning shot. To this, Bron had responded by stating that he was "hurt" to hear that.
Destiny might bring them together again in the NBA Finals 2021. If that happens, one can only guess how the dynamics of their fragile relationship can further change.
ADVERTISEMENT
Article continues below this ad