LeBron James Walked Out for Space Jam Promotion Sporting Ravishing $160,000 'Eye of the Tiger' Accessory
Published 05/19/2022, 3:34 PM EDT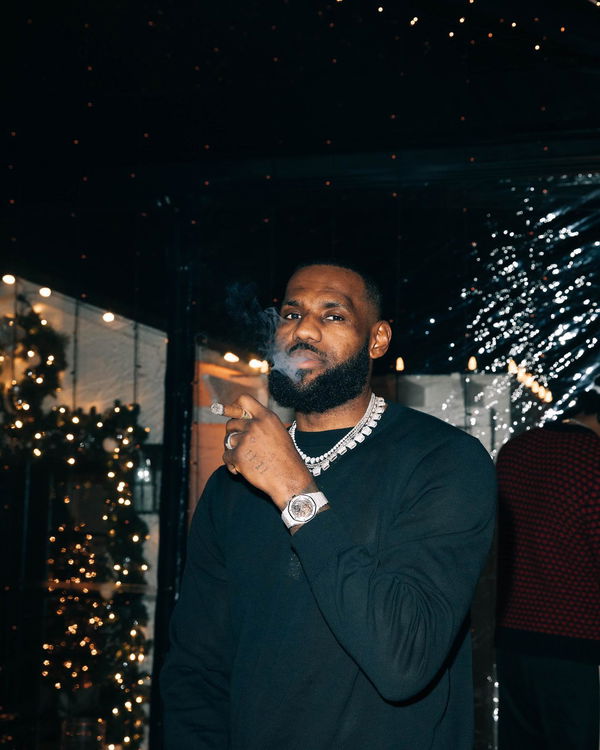 LeBron James is one of the best players to ever play in the NBA. He has always been in the 'GOAT' debate throughout his career. He was one of the most hyped players coming from high school. LeBron was dubbed as the "Chosen One" even when he was just a teenager.
When he was drafted right out of high school by the Cleveland Cavaliers, he took the league by storm. His quickness and athletic ability for a guy of his height and strength were unheard of. And he lived up to the expectations. 
ADVERTISEMENT
Article continues below this ad
Being an NBA superstar for so long has a long list of perks. With the fortune he made, James makes sure he dresses well and looks well presented.
And when he attended the "Jimmy Kimmel Live!" show for promoting his movie debut "Space Jam: A New Legacy", he was seen wearing a $160,000 watch. But the movie "Space Jam: A New Legacy" disappointed fans from every walk of life and didn't generate good profit. 
Superstar LeBron James
A lot of people look up to NBA stars and Hollywood celebrities for fashion inspiration. While a few could identify the products and accessories used by the celebrities straight away, not many can. One such man who is a watch specialist has recently identified one of James' watches.
When LeBron was promoting his movie, he made an appearance on the Jimmy Kimmel show. During which, he was seen wearing this insane $160,000. The watch reviewer, Nico Leonard, was absolutely baffled at seeing the watch James was wearing. 
ADVERTISEMENT
Article continues below this ad
Nico said, "Oh My God! Is this what I think it is? This is the Eye of The Tiger Rolex Daytona. This is fucking mad!… This Rolex Daytona is valued between $155,000 to $160,000."
The actual number of the Rolex watches produced is kept a secret. Surprisingly, the Rolex Daytona was not as popular, which made the company limit its production and is hard to find. But this has become one of the main reasons for the watches' popularity now.
WATCH THIS STORY – Michael Jordan vs Mike Tyson Net Worth Comparison
ADVERTISEMENT
Article continues below this ad
LeBron sure knows how to dress up for sure. Perhaps, with all the money he's making, it might be easier than it seems. 
In 2018, LeBron James signed with the LA Lakers for a reported four years $153.3 million. After winning the NBA championship with the Lakers in 2020, he signed a two-year contract extension worth $85 million.
Edited By: Arunaditya Aima