LeBron James Warned Ellen DeGeneres Not to 'Get Fooled By' Stephen Curry's Smile on Live TV
Published 05/21/2022, 8:00 AM EDT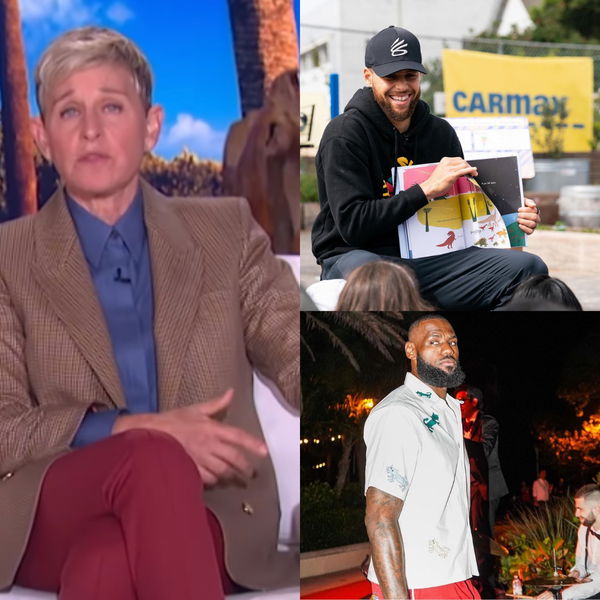 Everyone knows that LeBron James and Stephen Curry, the two greatest players of the current NBA generation, share a bond of frenemies. Both of them have clashed multiple times in the past, including four consecutive championship finals when LeBron was with the Cleveland Cavaliers. 
The bond between the two is the reason why on the recent episode of The Ellen DeGeneres Show, he said, "He's definitely a great guy. He's a fierce competitor, I'll tell you that, so don't get fooled by that smile when he comes up here." 
ADVERTISEMENT
Article continues below this ad
They have repeatedly demonstrated mutual respect for each other while also going at one another on the court during intense moments. Another bond that they both share is the bond of the hometown. James also added while talking about Curry- 
"I think the best thing for me is that we're two of the most talked-about athletes in the world, and we were both born in Akron, Ohio. So that means a lot to me." 
The biggest clash between the two
While they both have profoundly spoken about each other in the past, there have been serious situations between the two. During the 2016 NBA Finals, Golden State Warriors were leading the finals by 3-0. Curry, including the rest of the Warriors, displayed a certain ego and well that fired up LeBron James. The Cavaliers defeated the Warriors in Game 7 and won the 2016 NBA Championship. 
ADVERTISEMENT
Article continues below this ad
Curry, while addressing it quoted to ESPN, "Winning a championship is no easy task, and he was able to accomplish it with his guys. So you congratulate him. If I do see him, that's basically what I'd say. Enjoy. Obviously, he's done it before but enjoy the moment. They definitely deserve it. They played their butts off and got it done."
WATCH THIS STORY– Stephen Curry vs Roger Federer Net Worth Comparison 
ADVERTISEMENT
Article continues below this ad
There have been continuous rumors about the possibility of both of them teaming up together to go for the championship ring. Sadly, the only time fans have seen both of them on the same team is during the All-Star matches. During the all-star matches, both of them reflected great chemistry.
While we might have to wait for a while to see them together, it is going to be really exciting to see what both of them have planned for next season.
Edited By: Arunaditya Aima