"LeBron to The Bench": Fans Debate GOAT Squad Including Kobe Bryant And Michael Jordan
Published 10/03/2021, 11:04 AM EDT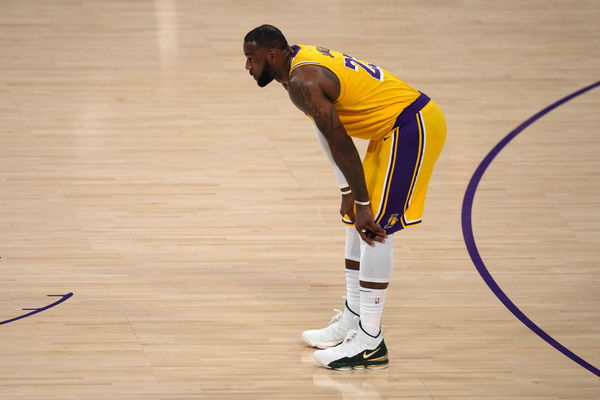 ---
---
When a player operates at the level of entering the greatest of all-time debates, one can assume that they don't have any major flaws in their game. In fact, the flaws become tougher to notice amid the greatness they exude. However, things change when you have to pick the starting five of the best players to have stepped on the hardwood. And in this situation, Lakers' LeBron James didn't look too good coming out of it.
ADVERTISEMENT
Article continues below this ad
LeBron James is hated on, AGAIN?
LeBron James has always had his fair share of critics and haters. From fans in general, to even analysts, they don't waste any opportunities to bring him down. Even the best accomplishments in his career, like winning NBA championships, have been dismissed by saying that Bron could never do it without the support he had.
ADVERTISEMENT
Article continues below this ad
In a debate on Twitter, fans are arguing about who they would bench out of 6 NBA all-timers, Michael Jordan, Kobe Bryant, Stephen Curry, LeBron James, Kevin Durant, and Shaquille O'Neal.
The Tweet that started this topic explained that Shaq and LeBron would be on his list because they're booth poor when it comes to shooting from the free-throw line. However, since Shaq is a monster on the board, LeBron would be the one to get the boot out of all of them. Surprisingly, there were a host of accounts who agreed with the original tweeter.
I agree!! Curry spreads the floor to half court Jordan and Kobe playing lockdown defense. Jordan is the quickest and doesn't waste dribbles, kd doesn't need the ball too much and can catch and shoot, shaq will get all the rebounds and dunk on everyone. LeBron has to go!! 🤷🏽‍♂️

— Jerome Martin (@Jay_Fitmed) October 3, 2021
Definitely Bron. That 2011 meltdown will always be in people's minds. you don't want an unreliable player on your team like Bron

— Rei Rei (@Rei_Rei0108) October 2, 2021
Use straight up logic and no hate
PG – Curry
SG – Jordan
SF – Kobe
PF – Durant
C – Shaq

Bench – LeBron ability to sub in and defend all 5 positions. None of the other guys are as versatile so the bench is literally the most valuable position of the 6.

— Chris L (@BreakingDad2006) October 3, 2021
There is literally no other way perfectly said and i couldn't agree more

— Hector Hernandez (@HectorH64389052) October 3, 2021
I'm sorry but
Steph
Kobe
Mj
Kd
Shaq

Is better than any lineup with bron

— Kye Drake (@HooperDrakexX) October 3, 2021
I'm just outright trading LeBron. Don't need the flops, turnovers, team disruption and lack of killer instinct in clutch.

— John Way (@JohnWayCee19) October 3, 2021
WATCH THIS STORY: Michael Jordan, LeBron James & Other NBA Players Who Tried Their Hands at Comedy By Hosting Saturday Night Live
ADVERTISEMENT
Article continues below this ad
Is King James that bad of a free throw shooter?
If LeBron James has a weakness in his game, it has to be his free throws. The impactful frame and ball-handling capabilities often land him in situations in which he has to go to the free-throw line. When you look at it, LeBron's free throw percentage is a decent 73.3%, which is much better than that of Shaq's which is 52.7%.
Watch This Story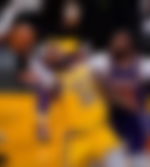 But it seems like it's in the clutch moments during which he suffers at the charity strip more. While this is obviously a concern, LeBron more than makes up for it in other areas of his game. So, do you agree with this conclusion these fans made? Who would you bench out of the iconic six?
ADVERTISEMENT
Article continues below this ad