Legendary NBA Coach Gets Brutally Honest About LeBron James and Carmelo Anthony Comparisons
Published 08/14/2021, 11:50 AM EDT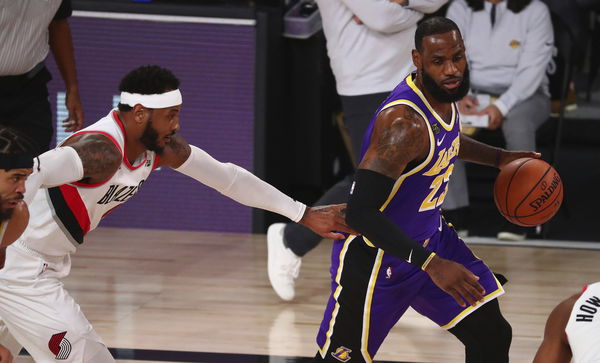 ---
---
LeBron James and Anthony Davis have found some star recruits to join their team for the 2021-22 season. Among them are two greats of the game – Carmelo Anthony and Russell Westbrook. The players form a veteran quartet that make the men in yellow in contention for the title. Carmelo in particular will be essential, considering his impact off the bench in recent times.
ADVERTISEMENT
Article continues below this ad
But has all been good in the hood between him and his teammates in the past?
Melo always loved competing against LeBron James
ADVERTISEMENT
Article continues below this ad
The fact of the matter is that Carmelo Anthony is a feisty competitor. Throughout the course of his career, he has done whatever it takes for his team to win. The Lakers will be hoping that he brings this same attitude to Staples Center next year. The 37-year-old has always been up for a fight, no matter who's on the other side of the court.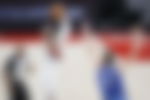 Legendary coach George Matthew Karl recently spilled the beans on how ambitious Carmelo Anthony has always been. Talking about Carmelo-LeBron James comparisons and more in an interview, he said, "The truth of the matter is that I think Melo [Anthony] wanted to be on the same level as LeBron, and liked competing against LeBron."
WATCH THIS STORY: Five Kobe Bryant Quotes That Can Send a Chill Down Your Spine
Karl says Carmelo gradually understood he was not on the level of James
In his nearly two-decade-long career, Melo has accumulated 23 points on average. He is a classy forward, which is why the Lakers showed faith in him. His best years were with the Denver Nuggets, where he completed an astonishing transitional phase.
On the other hand, LeBron James is the untamed beast of the NBA. One of the greatest players of all time, James has conquered the world with his prowess. He has garnered an average of 27 points from 2003-2021. The duo's careers kicked off at around the same time and in a similar fashion. Yet, the popular opinion is that James is just a notch off above the rest.
ADVERTISEMENT
Article continues below this ad
Try telling that to Carmelo Anthony back then, who had the raging fire in his belly. George Karl, who won the NBA Coach of the Year in 2013, compared James and Anthony. "I know when we played LeBron when I coached Melo, Melo got fired up, he got into the game. He played well. When I was in Denver, we had a winning record against LeBron with Melo.
"I think it was more of Melo understanding he was not on the same level of LeBron, and his light was fading while LeBron's was still shining."
ADVERTISEMENT
Article continues below this ad
READ ALSO: NBA Analyst Lashes Out at the Lack of Support Shown to Warriors' Klay Thompson
Irrespective of their past, both James and Anthony will look to put their egos aside and succeed. If we combine the duo's skill sets, the Lakers are a force to be reckoned with!