'Let's Get It'- 76ers' Ben Simmons Reacts to Being Picked by LeBron James in 2021 NBA All-Star Game
Published 03/05/2021, 12:00 AM EST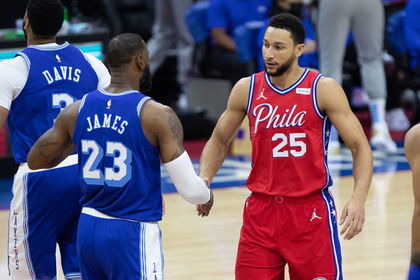 ---
---
Ben Simmons is an All-Star once again. For the 3rd time in his career, Simmons was named an All-Star, and he will be taking part in the big game this Sunday.
ADVERTISEMENT
Article continues below this ad
It is vindication for Simmons, who is arguably playing his best basketball this season. The Australian is a changed player under Doc Rivers, and his play was enough to convince captain LeBron James to select him.
Ben Simmons hyped for All-Star game
ADVERTISEMENT
Article continues below this ad
Ben Simmons took to Twitter earlier today to react to the NBA All-Star draft. As a part of the draft, Simmons was selected by All-Star captain LeBron James to be part of Team LeBron.
Simmons was quite pleased with his selection and showed his motivation to get the win on Sunday. He said, "Lets Get It" on Twitter, in response to being part of Team LeBron.
LeBron James has often expressed his support of Simmons in the past. When Simmons made the All-Star team for the first time in his career, Giannis selected him to be a part of his team.
However, after the draft, LeBron James traded former-MVP Russell Westbrook to bring Simmons into his team.
Every year that Simmons has been an All-Star, he has been selected by LeBron James to be a part of his team. Simmons' style often attracts comparisons to that of LeBron James.
Both are very athletic players who can take the ball to the rim, but their primary strength is their ability to distribute the ball. What's more, both James and Simmons are very similar players when it comes to their passing.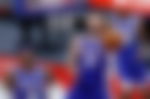 Simmons not unlike LeBron James
For the season, Simmons has been averaging similar numbers to his previous season, having averaged 16 points, 7 assists, and 7 rebounds.
However, it is his passing efficiency that has improved. The 76ers planned around Simmons and surrounded him with excellent three-point shooters whom he can set up with ease.
ADVERTISEMENT
Article continues below this ad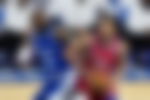 Will Ben Simmons and Team LeBron get the win in the All-Star game? Considering how Simmons has consolidated an undefeated record at the prestigious stage, having won two of his previous fixtures, the odds are certainly in their favor.
However, bagging the win this time around may not be as straightforward. Especially with his 76ers' teammate Joel Embiid playing for Team Durant.
ADVERTISEMENT
Article continues below this ad