'Let's Get More Rings': Giannis Antetokounmpo Thrilled for His Brother Kostas On Winning His First Ring
Published 12/22/2020, 11:54 PM EST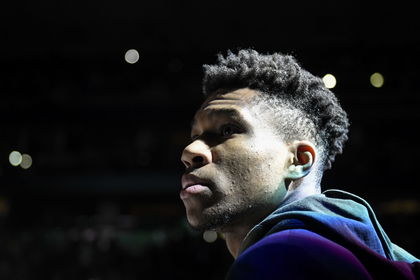 ---
---
It is safe to say, after one of the toughest seasons in the NBA, the Los Angeles Lakers were finally rewarded for their epic run to the championship last season. Before they took the court to play against their rivals, the Clippers, they had their official ring ceremony. Although this ceremony didn't have millions of fans cheering in the stadium, the Greek purple and gold player had his brother Giannis Antetokounmpo to cheer him.
ADVERTISEMENT
Article continues below this ad
Giannis shows his support for his brother Kostas Antetokounmpo
So far, Giannis Antetokounmpo has been the talk of the town. His future with the Milwaukee Bucks was the biggest question this offseason. Nobody knew if he would stay or leave the Bucks for good. However, Giannis officially signed his extension with the Bucks, just days before his December 21 deadline.
ADVERTISEMENT
Article continues below this ad
But this time, his name has hit the headlines because of his brother, Kostas. Kostas became the first member of the Antetokounmpo family to earn an NBA title last season with the Los Angeles Lakers.
As Kostas got ready to receive his first ring, a video of his family telling him how proud they are of him came on the screen. Then came a message from Giannis in which he said, "We're proud of you! We love you! We are extremely happy for you for bringing the first ring home. Let's get more rings, man!"
What do these Lakers' rings look like?
According to USA Today, the ring made and designed by Jason of Beverly Hills contains all elements that remind the team why this title was the most rewarding but difficult for them. A lot of thought has gone behind the design of these rings.
This ring has .95 carats of amethyst, which actually depicts the duration of their stay in the Orlando bubble, 95 days. All the rings have a mamba snake at the back of the players' numbers. If that wasn't enough, there is also a removable top that has all the retired jerseys mentioned, including that of the legendary Kobe Bryant.
ADVERTISEMENT
Article continues below this ad
Bryant had died in a tragic helicopter crash earlier this year. This made the Lakers dedicate all of their achievements to their franchise's legend. The ring also has 17 trophies that show them tying the score with the Boston Celtics, who have also won 17 titles. This is the most in NBA's history, and this year, the Lakers will look to make a run for their 18th one.
ADVERTISEMENT
Article continues below this ad