List of Every LeBron James Injury that He Endured in the Last 18 Years
Published 05/01/2021, 9:58 PM EDT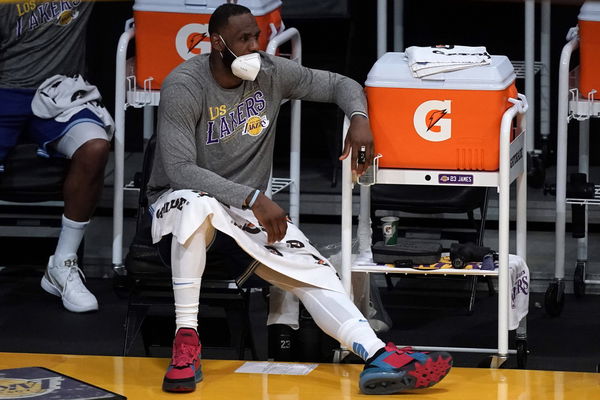 ---
---
LeBron James is arguably the almighty's greatest robotic invention, to say the least. When youngsters are struggling to play a complete regular season, King James has done it for years on the stretch. It is as if his mechanical physique uses machine learning to adapt to the changing environment and always brings out his best version on the court.
ADVERTISEMENT
Article continues below this ad
However, there have been rare occasions of downtimes when the Akron Hammer needed some fixing. Take a look at the timeline of those injuries that tried to bog down the four-time NBA champion.
LeBron James injury history
ADVERTISEMENT
Article continues below this ad
As of now, the L-Train has played 1307 games in the 18 years of his illustrious NBA career. He is just 40 games shy of leaving Kobe Bryant behind in the all-time list of most number of games. His longevity will surely help him break and set many other records. However, 10 years ago, he had scared the world against believing that.
Bron's injuries during his early years with the Cavaliers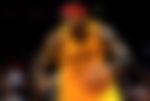 LeBron James missed his first three games as a pro baller in January 2004 because of a right ankle sprain. In his sophomore year, he sprained his left ankle and missed two more games.
The same left ankle again bothered him during the 2005-06 season when he missed three of the Cavs' final four outings. Notably, he made a sound come back to play his first-ever postseason and clock 46+ mpg.
In 2006-07, King James missed four games, two of those because of a sprained toe, one other because of Knee Tendinitis, and the last one with a back spasm. 
It was 2007-08 that saw him miss five straight games because of a sprained left index finger. A right ankle sprain further cost him a game, but that 5-game streak was his longest.
In 2008-09, the undisputed king sat out for just one game and that too as a choice, to give himself a rest day before the postseason. The following season, his ankle scare came back and forced him to stay benched for two games. Then, the Cavs again allowed him rest and kept him out for the last four closing games.
The L-Train's Miami stoppage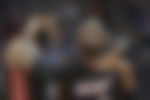 During his first year with Miami, the Chosen One missed just three games in the entire regular season. However, he showed some signs of chronic cramping issues during the NBA Finals 2011.
But it was nothing that could stop him from delivering huge minutes throughout the series. The following year (the lockout season) in 2011-12, Bron rested in three of the Heat's last four games. The only issue that popped up was in Game 4 of the NBA Finals 2012 when leg cramps vainly tried to boggle him. 
The leg cramps continued till the 2012-13 preseason. But the only times that he missed a regular-season game that season came during the final stretch where he skipped five (illness and shoulder contusion). 
Bron's final season with the Heat, after winning two titles, brought a series of injuries. He broke his nose, sprained his left ankle, strained his right groin, and showed signs of soreness to the shoulders. All that cost him five regular-season games. Later, the cramps forced him to take a bench in most parts of game 1 of the Heat's matchup against the Spurs.
The Akron Hammer's second stretch with Cavs
In 2014-15, he missed a game with a left knee issue and further strained his lower back to miss seven consecutive nights. That year was the first time when he played fewer than 70 games (not considering the lockout season). After that, he missed 14 games in the next two seasons before recording a perfect 82-game 2017-18 season for the first time in his career. Luckily for Bron, most of his medical procedures took place during the off-season, and his injuries almost always washed away after the preseason. That helped him stay on course for the most part of the regular seasons.
Read Also – "Don't Think I'll Get Back to 100% In My Career": LeBron James Makes Shocking Revelation on His NBA Return; Anthony Davis Disagrees
LeBron James' injury with the Lakers
ADVERTISEMENT
Article continues below this ad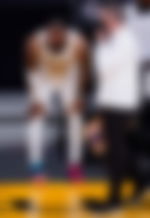 A serious groin injury sidelined LeBron for a crazy 20 games in his debut season with the Lakers. Fortunately, it was not very severe and Bron could make a recovery, but given his age at the time, it could've been worse. That groin strain shortened Bron's season to just 55 games and that cost the Lakers their playoff dreams. 
Luckily, the 2019-20 season for the Akron Hammer did not see him missing many games. He showed some back, elbow, and knee issues, but nothing that could keep him off the court. As a result, the Lakers topped the WC and later won their 17th title. 
ADVERTISEMENT
Article continues below this ad
In 2020-21, after resuming the season with the least possible break, LeBron timed close to 34 minutes as a 36-YO. Perhaps, his body did not accept so much load and his right ankle sprained, costing him 41 days of inactivity. 
Now, King James has at least three more playing years in front of him. Do you think he will ever again play 75+ games in a season? Help us know your predictions in the comments.