'Lit the Fire Under Me': Warriors' Steph Curry Reveals How Tiger Woods Helped Him Win First NBA Championship
Published 02/10/2021, 12:41 AM EST
---
---
The Golden State Warriors superstar Steph Curry isn't just the greatest basketball player, but also an avid golfer. He has previously participated in a lot of golfing events, and if there is anything he is more passionate about than basketball, it's golf.
ADVERTISEMENT
Article continues below this ad
In fact, Golf plays a bigger role in his life and career than anyone can imagine. If it wasn't for Tiger Woods, it's possible that the Golden State Warriors would have never won 3 of their championships and it all started with the 2015 Playoffs.
Tiger had a hand in Steph Curry winning his first title
ADVERTISEMENT
Article continues below this ad
Would anyone believe it if somebody said that it was Tiger Woods who motivated Steph Curry when they were about to lose to Memphis Grizzlies? And which eventually led to Steph's stellar performance that got them out of that rut.
In the 2nd round of the Playoffs in 2015, it looked like the Memphis Grizzlies were going to eliminate the Golden State Warriors from the title run. They were up by 2-1 and that's when Tiger called him and gave him the motivational speech.
"We've talked a couple times. He actually called me out of the blue back in 2015 during our playoff run—in the second round against [the] Memphis [Grizzlies].
"We were down [two games to one] and my PR director for the Warriors said, 'Hey if this Florida number calls, you might want to answer it.' I was like, 'All right.'
Warriors great @StephenCurry30 has golfed with some of the world's most influential people, including @BarackObama. But if he could choose just one person to tee off with, who would it be? He tells us on Huddle&Flow. P.S., stay till the end for a memorable mic drop. 🔥🔥👇🏾 pic.twitter.com/i0EqBvqZVj

— Jim Trotter (@JimTrotter_NFL) February 9, 2021
"[Tiger] called me about an hour later and it was the biggest pep talk of all time—just out of the blue. He spoke some life into our comeback during that round. I said, 'I'm ready for it. I know we're gonna get it done.'
"And he dropped the mic at the end of the call, he was like, 'Prove it,' and then just hung up. It don't get no better than that. He lit the fire under me for sure," he narrated.
Curry needed this to drop 33 points, 8 rebounds, and 5 assists in game 4. This helped them tie the series which they eventually won, and paved their way to the first of many titles that followed.
Why would he choose Tiger Woods?
Well, Woods is the 'GOAT' when it comes to the golf links. So, why would one superstar not want to play against another?
However, there is a lot more to why Stephen Curry would choose Woods. On the 'Huddle & Flow' Podcast, he was also asked whom he would pick to play golf with and why.
"Tiger, for sure," Curry exclaimed. "He's obviously been kind of a hero of mine growing up and to know all he's been through over the course of his career, all the highs and lows.
ADVERTISEMENT
Article continues below this ad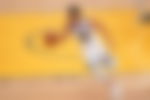 "I feel like that would be amazing four-five hours out there to kind of hear his story from his lens. And to see him hit amazing golf shots all day. That would be my guy."
It is surprising that the two haven't actually played together yet. But when that does happen, it won't be something anybody would want to miss out on.
ADVERTISEMENT
Article continues below this ad