Lonzo Ball Reveals the Best Advice He Received From LeBron James
Published 06/14/2021, 2:07 AM EDT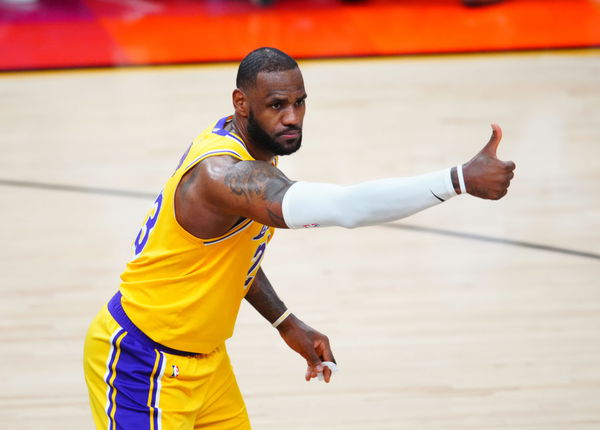 ---
---
When LeBron James made his switch to the Los Angeles Lakers, the King was the man among boys. With players like Lonzo Ball, Brandon Ingram, and Kyle Kuzma, the Lakers were a mixed bunch of talented players.
After the Lakers did not make it to the playoffs in the first season, the likes of Lonzo and Ingram were traded to the Pelicans in 2019. Two years later, NOLA has become one of the most exciting young teams in the league with Ball and Ingram thriving as starters.
Lonzo Ball reveals how LeBron James' advice helped him
While Lonzo has become one of the most skillful playmakers of the game, his start in the NBA was not as smooth sailing. Drafted as the number two overall pick by the Lakers, the 23-year-old had high expectations riding on him.
While Ball did show flashes of being an excellent facilitator, he often had too many turnovers in the game. But Lonzo has made a resounding statement after improving his jump shot and perimeter defense.
The 23-year-old recently reveals how his former teammate LeBron James helped him and said, "I think the best advice I got is from Bron (LeBron James) so far. He sat me down one time in the locker room and just he's you know, obviously, he's been through everything. He kind of knew all the crazy stuff that I was going through when I first got to the league, and he told me just to keep the main thing the main thing."
Ball added, "That's probably stuck with me the most anything everybody anybody's ever told me just because you know he's right you know once you take care of what you got to take care of on the court and everything else falls in place."
ADVERTISEMENT
Article continues below this ad
Lonzo has certainly taken a significant leap over the past two years. Shooting over 40% of his three-pointers and scoring more than 14 points, the 23-year-old is certainly progressing to be a utility starter in the league.
With Lonzo's free agency looming, teams like the Lakers who are looking for a reliable point guard might be on for the hunt for Ball. Could a reunion between LeBron James and Lonzo Ball be possible?