Los Angeles Lakers 2021-22 NBA Schedule: Key Fixtures Against Nets, Clippers, Bucks and More
Published 09/27/2021, 4:54 AM EDT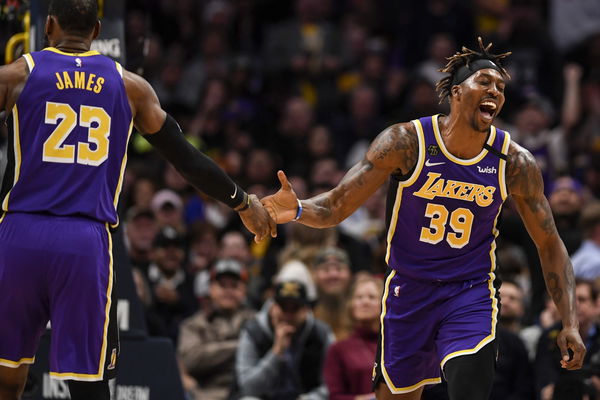 ---
---
The Los Angeles Lakers are coming off a rather disappointing season. They failed to defend their crown as they saw their exit in the first round of the playoffs. However, injuries came raining down on their stars at the most crucial time, causing their downfall. However, the story for this season is completely different.
ADVERTISEMENT
Article continues below this ad
The Lakers added some serious firepower in free agency. Notably, All-Star point guard, Russell Westbrook, will suit up for his hometown this season. His 22 points per game along with 11 assists will come big with strong interior players. There is no doubt that LeBron James and co. are on a mission to repeat their 2020 success this season and win another title.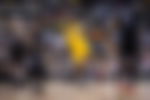 With so many moves made, it is an all-or-nothing season for the purple and gold outfit. Can they live up to the expectations or will they crumble?
ADVERTISEMENT
Article continues below this ad
WATCH THIS STORY: Damian Lillard Raining Threes, Jayson Tatum's Slam Dunk & Other Team USA vs Iran Tokyo Olympics 2020 Highlights
Key matchups this season
October 22- vs Phoenix Suns: The opportunity to get their revenge will arise right at the initial part of the season. The Suns took the Lakers out in the playoffs last season. Having no Anthony Davis, the King's efforts couldn't get them through. However, they return at full strength and more this season and will look for vengeance against Phoenix.
November 17- vs Milwaukee Bucks: The Bucks are the defending champions of the NBA. Hence, with both teams looking to win the crown, their battle will answer many questions. With a new look on the Lakers, this will be their first test playing as a team to see how they can truly perform on the big stage. With eyes all glued on this matchup, it is anyone's game.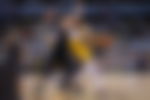 December 3- vs Clippers: The LA rivalry is always an important matchup. With the Staples Center buzzing all the time, these two teams go to war every time they meet. However, this year the Clippers will play without star player, Kawhi Leonard. Hence, this gives the Lakers a big advantage.
ADVERTISEMENT
Article continues below this ad
December 25- vs Brooklyn Nets: There couldn't be a better Christmas day matchup for this season. Probably the most anticipated NBA finals since last season, this year it is all the more exciting. Moreover, with the spirit of Christmas going around in their first matchup, the energy will be unmatched. This will surely be one of the biggest matchups of the entire regular season.
Watch This Story
Los Angeles Lakers complete NBA schedule
ADVERTISEMENT
Article continues below this ad
Home Game

 

October 3

Brooklyn Nets

12:30 PM PT(1:00 AM IST)

{PRESEASON}

Home Game

 

January 7

Atlanta Hawks

 

7:00 PM PT (7:30 AM IST)

Away Game

 

October 6

Phoenix Suns

7:00 PM PT (7:30 AM IST)

{PRESEASON}

Home Game

 

January 9

Memphis Grizzlies

 

6:30 PM PT (7:00 AM IST)

Away Home

 

October 8

Golden State Warriors

7:00 PM PT (7:30 AM IST)

{PRESEASON}

Away Game

 

January 12

Sacramento Kings

 

7:00 PM PT (7:30 AM IST)

Home Game

 

October 10

Phoenix Suns

7:00 PM PT (7:30 AM IST)

{PRESEASON}

Away Game

 

January 15

Denver Nuggets

 

6:00 PM PT (6:30 AM IST)

Home Game

 

October 12

Golden State Warriors

5:30 PM PT (6:00 AM IST)

{PRESEASON}

Home Game

 

January 17

Utah Jazz

 

7:30 PM PT (8:00 AM IST)

Away Game

 

October 14

Sacramento Kings

7:00 PM PT (7:30 AM IST)

{PRESEASON}

Home Game

 

January 19

Indiana Pacers

 

7:30 PM PT (8:00 AM IST)

Home Game

 

October 19

Golden State Warriors

 

7:00 PM PT (7:30 AM IST)

Away Game

 

January 21

Orlando Magic

 

4:00 PM PT (4:30 AM IST)

Home Game

 

October 22

Phoenix Suns

 

7:00 PM PT (7:30 AM IST)

Away Game

 

January 23

Miami Heat

 

3:00 PM PT (3:30 AM IST)

Home Game

 

October 24

Memphis Grizzlies

 

6:30 PM PT (7:00 AM IST)

Away Game

 

January 25

Brooklyn Nets

 

4:30 PM PT (4:00 AM IST)

Away Game

 

October 26

San Antonio Spurs

 

5:30 PM PT (6:00 AM IST)

Away Game

 

January 27

Philadelphia 76ers

 

4:30 PM PT (4:00 AM IST)

Away Game

 

October 27

Oklahoma City Thunder

 

5:00 PM PT (5:30 AM IST)

Away Game

 

January 28

Charlotte Hornets

 

4:00 PM PT (4:30 AM IST)

Home Game

 

October 29

Cleveland Cavaliers

 

7:30 PM PT (8:00 AM IST)

Away Game

 

January 30

Atlanta Hawks

 

10:00 AM PT(10:30 PM IST)

Home Game

 

October 31

Houston Rockets

 

7:30 PM PT (8:00 AM IST)

Home Game

 

February 2

Portland Trail Blazers

 

7:30 PM PT (8:00 AM IST)

Home Game

 

November 2

Houston Rockets

 

7:30 PM PT (8:00 AM IST)

Away Game

 

February 3

LA Clippers

 

7:00 PM PT (7:30 AM IST)

Home Game

 

November 4

Oklahoma City Thunder

 

5:30 PM PT (6:00 AM IST)

Home Game

 

February 5

New York Knicks

 

5:30 PM PT (6:00 AM IST)

Away Game

 

November 6

Portland Trail Blazers

 

7:30 PM PT (8:00 AM IST)

Home Game

 

February 8

Milwaukee Bucks

 

7:00 PM PT (7:30 AM IST)

Home Game

 

November 8

Charlotte Hornets

 

7:30 PM PT (8:00 AM IST)

Away Game

 

February 9

Portland Trail Blazers

 

7:00 PM PT (7:30 AM IST)

Home Game

 

November 10

Miami Heat

 

7:00 PM PT (7:30 AM IST)

Away Game

 

February 12

Golden State Warriors

 

5:30 PM PT (6:00 AM IST)

Home Game

 

November 12

Minnesota Timberwolves

 

7:30 PM PT (8:00 AM IST)

Home Game

 

February 16

Utah Jazz

 

7:00 PM PT (7:30 AM IST)

Home Game

 

November 14

San Antonio Spurs

 

12:30 PM PT(1:00 AM IST)

Home Game

 

February 25

LA Clippers

 

7:00 PM PT (7:30 AM IST)

Home Game

 

November 15

Chicago Bulls

 

7:30 PM PT (8:00 AM IST)

Home Game

 

February 27

New Orleans Pelicans

 

7:00 PM PT (7:30 AM IST)

Away Game

 

November 17

Milwaukee Bucks

 

4:30 PM PT (5:00 AM IST)

Home Game

 

March 1

Dallas Mavericks

 

7:00 PM PT (7:30 AM IST)

Away Game

 

November 19

Boston Celtics

 

4:30 PM PT (5:00 AM IST)

Away Game

 

March 3

LA Clippers

 

7:00 PM PT (7:30 AM IST)

Away Game

 

November 21

Detroit Pistons

 

3:00 PM PT (3:30 AM IST)

Home Game

 

March 5

Golden State Warriors

 

5:30 PM PT (6:00 AM IST)

Away Game

 

November 23

New York Knicks

 

4:30 PM PT (5:00 AM IST)

Away Game

 

March 7

San Antonio Spurs

 

5:30 PM PT (6:00 AM IST)

Away Game

 

November 24

Indiana Pacer

 

4:00 PM PT (4:30 AM IST)

Away Game

 

March 9

Houston Rockets

 

5:00 PM PT (5:30 AM IST)

Home Game

 

November 26

Sacramento Kings

 

7:30 PM PT (8:00 AM IST)

Home Game

 

March 11

Washington Wizards

 

7:30 PM PT (8:00 AM IST)

Home Game

 

November 28

Detroit Pistons

 

6:30 PM PT (7:00 AM IST)

Away Game

 

March 13

Phoenix Suns

 

5:00 PM PT (5:30 AM IST)

Away Game

 

November 30

Sacramento Kings

 

7:00 PM PT (7:30 AM IST)

Home Game

 

March 14

Toronto Raptors

 

7:30 PM PT (8:00 AM IST)

Home Game

 

December 3

LA Clippers

 

7:00 PM PT (7:30 AM IST)

Away Game

 

March 16

Minnesota Timberwolves

 

5:00 PM PT (5:30 AM IST)

Home Game

 

December 7

Boston Celtics

 

7:00 PM PT (7:30 AM IST)

Away Game

 

March 18

Toronto Raptors

 

4:30 PM PT (4:00 AM IST)

Away Game

 

December 9

Memphis Grizzlies

 

5:00 PM PT (5:30 AM IST)

Away Game

 

March 19

Washington Wizards

 

5:00 PM PT (5:30 AM IST)

Away Game

 

December 10

Oklahoma City Thunder

 

5:00 PM PT (5:30 AM IST)

Away Game

 

March 21

Cleveland Cavaliers

 

4:00 PM PT (4:30 AM IST)

Home Game

 

December 12

Orlando Magic

 

6:30 PM PT (7:00 AM IST)

Home Game

 

March 23

Philadelphia 76ers

 

7:00 PM PT (7:30 AM IST)

Away Game

 

December 15

Dallas Mavericks

 

4:30 PM PT (4:00 AM IST)

Away Game

 

March 27

New Orleans Pelicans

 

4:00 PM PT (4:30 AM IST)

Away Game

 

December 17

Minnesota Timberwolves

 

5:00 PM PT (5:30 AM IST)

Away Game

 

March 29

Dallas Mavericks

 

4:30 PM PT (4:00 AM IST)

Away Game

 

December 19

Chicago Bulls

 

12:30 PM PT(1:00 AM IST)

Away Game

 

March 31

Utah Jazz

 

7:00 PM PT (7:30 AM IST)

Home Game

 

December 21

Phoenix Suns

 

7:00 PM PT (7:30 AM IST)

Home Game

 

April 1

New Orleans Pelicans

 

7:30 PM PT (8:00 AM IST)

Home Game

 

December 23

San Antonio Spurs

 

7:30 PM PT (8:00 AM IST)

Home Game

 

April 3

Denver Nuggets

 

12:30 PM PT(1:00 AM IST)

Home Game

 

December 25

Brooklyn Nets

 

5:00 PM PT (5:30 AM IST)

Away Game

 

April 5

Phoenix Suns

 

7:30 PM PT (8:00 AM IST)

Away Game

 

December 28

Houston Rockets

 

5:00 PM PT (5:30 AM IST)

Away Game

 

April 7

Golden State Warriors

 

7:00 PM PT (7:30 AM IST)

Away Game

 

December 29

Memphis Grizzlies

 

5:00 PM PT (5:30 AM IST)

Home Game

 

April 8

Oklahoma City Thunder

 

7:30 PM PT (8:00 AM IST)

Home Game

 

December 31

Portland Trail Blazers

 

7:30 PM PT (8:00 AM IST)

Away Game

 

April 10

Denver Nuggets

 

TBD

Home Game

 

January 2

Minnesota Timberwolves

 

6:30 PM PT (7:00 AM IST)

Home Game

 

January 4

Sacramento Kings

 

7:30 PM PT (8:00 AM IST)