Lakers' LeBron James Closes to a Century in a Rare Clutch Time Stat
Published 05/20/2021, 2:00 AM EDT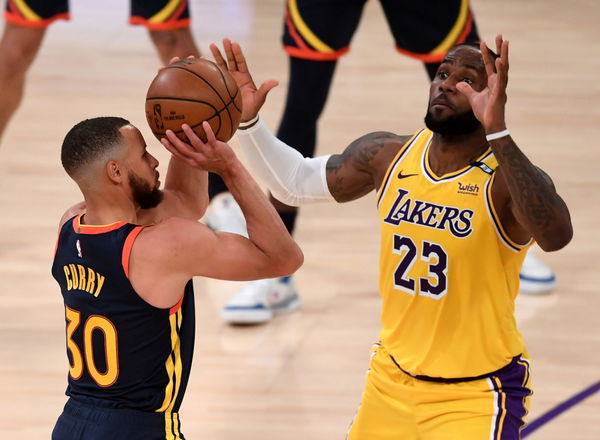 ---
---
The Lakers vs Warriors play-in game looked much like game 5 of a playoff series where both sides tried their absolute best to win. Unfortunately for the Warriors, they lost all of their lead in the second half and eventually succumbed to the clutch game of LeBron James' Lakers. 
ADVERTISEMENT
Article continues below this ad
The LA-based franchise made a slow start, standing on a double-figure deficit by halftime. However, LeBron James soon turned the tides by enjoying a decent run in the decisive quarter, handing a lead to the Lakers. With under 90 seconds remaining, the two teams tied the game at 100 apiece. So what went into those final possessions?
LeBron James with a game-winning shot for the Lakers
ADVERTISEMENT
Article continues below this ad
There was a point when it appeared that the Warriors would upset the Lakers. After starting Q4 with a disappointing 0-8, the Warriors soon bounced back and stood at 98-97 with just two minutes remaining.
With Steph Curry on the floor, it seemed as if there was nothing that the Lakers could do. But then, LeBron James completed a free throw to tie the score, giving the Lakers a boost. 
With under a minute remaining, Bron made a successful three-pointer on KCP's assist. That shot put the Lakers 103-100 ahead of the Warriors, a lead the dubs nation could not match. After that, Jordan Poole missed his attempt at tieing the score and with that, the Warriors lost their hard-fought game.
Also, that play helped King James with a 97th career game-tying/go-ahead in the final minute. 
Read Also – 'Seeing Three Rims': What Happened to LeBron James' Eyes During Lakers vs Warriors Play-In Game?
The Warriors have some positive takeaways
The Bay Area was playing without Klay Thompson, Eric Paschall, Kelly Oubre Jr, or James Wiseman. Yet, they were successful in taming the Lakers and forcing them to play their top game if they're to win.
Both Andrew Wiggins and Draymond Green played top-notch defense against LeBron James and Anthony Davis, making them work really hard. 
ADVERTISEMENT
Article continues below this ad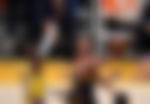 For sure, center Kent Bazemore lost his buzzer-beating possession, but he (5 steals) did not have a very poor night. Both Jordan Poole and Juan Toscano strengthened the bench as they showed character against the big-sized Lakers. 
Next up, the Warriors hold a formidable upper hand against the Grizzlies and will be the favorite to win. Also, considering that the Warriors are 2-1 against the Jazz and 1-2 against the Suns in this season, they'd rather want to be #8. 
ADVERTISEMENT
Article continues below this ad
Was it actually good for Steve Kerr that the Warriors lost? Help us know in the comments.