Lakers' LeBron James Hilariously Responds to Imitation of his Reaction to James Harden Trade
Published 01/14/2021, 11:55 PM EST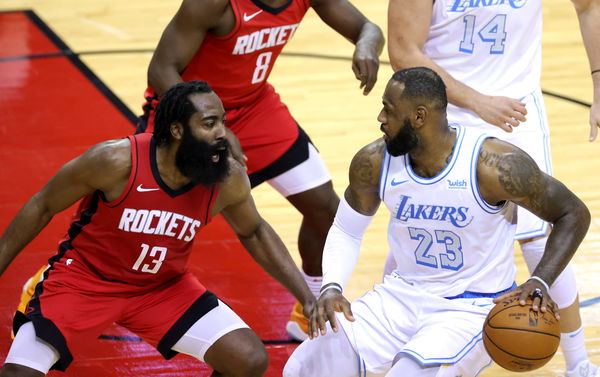 ---
---
With the Brooklyn Nets acquiring James Harden in a blockbuster trade, the whole league has been forced to re-evaluate their calculations. This includes LeBron James and the LA Lakers, who are the defending NBA champions this season. In fact, many believe that due to the super-team in Brooklyn, the Lakers' chances to repeat have taken a hit.
ADVERTISEMENT
Article continues below this ad
Renowned YouTube artist Mark Phillips (a.k.a RDCWorld1) made a hilarious video about LBJ's reaction to the trade. In the video, James is shown being frustrated with everyone forming super-teams to dethrone him and the Lakers.
While some might have taken offense to such a video, LeBron appreciated this in a unique style. King James tweeted his reaction on the video, which said:
ADVERTISEMENT
Article continues below this ad
"IM 36!!!!! IM 36!!!! STOP THROWING THE BALL"
In the above mentioned tweet, LBJ is talking about a part from Phillips' video. Phillips impersonates Bron as being fed up and shouting, "I'm 36!" in reaction to the James Harden trade.
This is not the first time that Phillips has made a LeBron impersonation on his channel. But it is definitely the first time that LeBron James himself has reacted to it. Following LeBron's retweet, Phillips posted his reaction upon finding out that James liked his bit. He tweeted:
"BRO WHAT THE HELL! BRO MAN I AM ABOUT TO PASS OUT THAT IS CRAZY! IMMMMM TRIPPPINGGGG."
Will LeBron James and Kevin Durant lock horns in the NBA Finals once again?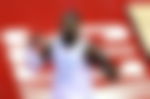 While Harden's Nets signing has hogged all the recent NBA headlines, Kevin Durant is the heart and soul of the team. Even before Harden's news broke, KD was expected to carry the team to the finals.
ADVERTISEMENT
Article continues below this ad
Obviously, KD had Kyrie Irving by his side, but Irving's sudden disappearance has left the organization in a tough spot. In Irving's absence, KD carried the team on his back and made sure they didn't slip off.
If LeBron James and Kevin Durant meet up in the finals, it will reignite an old rivalry. During Durant's stint with the Warriors, the two superstars met in the NBA Finals twice with KD taking the dub both times.
ADVERTISEMENT
Article continues below this ad
If we witness a rematch between the two superstars, who do you think will be victorious? Let us know your thoughts in the comments section down below.