LeBron James Leaves Pau Gasol and Kobe Bryant Way Behind in a Unique NBA Record
Published 03/16/2021, 2:07 AM EDT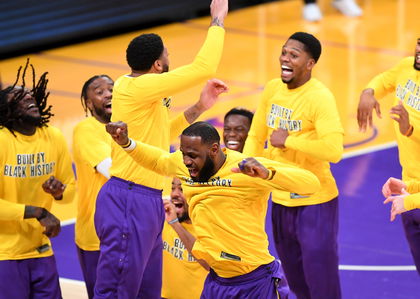 ---
---
LeBron James has transitioned from being a scoring machine to becoming a record-setting factory. Every other night, he would come out and break a record or two without paying heed to any 'minor' achievements. 
ADVERTISEMENT
Article continues below this ad
In the Lakers' 128-97 blowout victory against the Warriors, King James added yet another league record to his bank. He played for 30 minutes, which was the most by any player from both teams, and ensured the Lakers stayed productive. 
An aging LeBron James and his expanding legacy
ADVERTISEMENT
Article continues below this ad
LeBron James, 36, is not ready to slow down and his numbers largely prove how no one has ever been as consistent. Be it his average time on the court or his high scoring every other night, the L-Train is taking it one match at a time to chart new territories.
In the game against the Warriors, he scored 22 points, 10 boards, and 11 assists to record the 10th triple-double after turning 35. One must note that the Lakers played 11 fewer games last year because of the pandemic, or Bron might have touched this number even earlier. 
With this achievement, Bron left behind Jason Kidd (8), Pau Gasol (3), Paul Pierce (3), Kobe Bryant (2), and an entire list of players. By every definition, he is the most dominant player at his current age, even better than the league legends and arguable GOATs.
Also recommended – WATCH: LeBron James Scores a Butter Smooth Fadeaway in Lakers' Domination Over Warriors
Who are the triple-double leaders post the age of 30?
ADVERTISEMENT
Article continues below this ad
LeBron James was the only active player on that list of twenty players who scored a triple-double after 35+. However, things are more competitive in the 30+ category where the king is still LeBron, with 62 such games. The listing (yet to be updated) has Wilt Chamberlain (61), Jason Kidd (58), and Russell Westbrook (53) as the closest names to Bron. Among these, only Russ has a real shot at climbing the ladder and taking the crown from King James.
Now, many critics of LeBron James argue he records a high number of minutes even at that age because he does not tire himself much by playing a more physical game. It's true he's making more three-point attempts than ever, but his numbers prove that he is contributing in different ways. Last year, he even recorded a career-high 10-assist average to show how open he is to adapting. 
When it comes to his explosiveness, the man shows it every once in a while with a dunk or two. Remember how he scored just 4 points in the All-Star Game, but still managed to drop a picture-perfect superman dunk?
ADVERTISEMENT
Article continues below this ad
It won't surprise fans if LeBron continues to score more triple-doubles and touches that 75 mark in the coming years. Would it surprise you?