LeBron James Reacts to Ben Simmons and Joel Embiid Being Ruled Out of the All-Star Game
Published 03/07/2021, 8:20 PM EST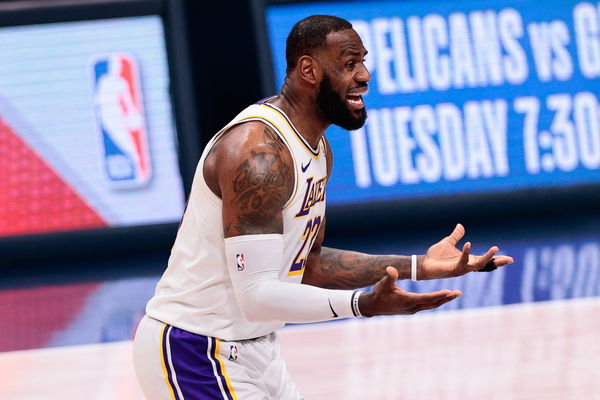 ---
---
LeBron James is a whistleblower and a charismatic leader who knows when to speak up and when not to. It is crystal clear that had he been in the position of NBA Commissioner Adam Silver, the All-Star Game 2021 won't be taking place under these strange conditions.
ADVERTISEMENT
Article continues below this ad
Some would argue that the All-Star captain has played the most ASGs, and hence, it is easy for him to pass one. But this time around, his reluctance stemmed from his position as a league leader who ought to stand up for the majority of the players.
The disappointment on his face looked even bigger when he discussed the shock eleventh-hour exit of key players.
ADVERTISEMENT
Article continues below this ad
LeBron James looked visibly unhappy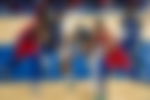 In an interview on the Game Day, LeBron James reflected on various issues like playing the entire ASW on one single day, staying safe from the virus, the importance of HBCUs, and Alley-oop. Also, he gave his candid reaction on the ruling out of Joel Embiid and Ben Simmons from tonight's game. 
The captain exclaimed, "Well, I think it's very unfortunate that Joel and Ben won't be playing in our game tonight. Obviously, they're two healthy All-Stars, and this means a lot to all of us. Even no matter how you feel about having to be here, it's still the same for me." 
He later expressed his disappointment with the holding of the game as he detailed cryptically, "I love our league and I love playing the game of basketball at the highest level and doing what I love to do, but I think under these circumstances, what we're going through with the pandemic and everything with the season, just thought we could have looked at it little bit differently, but that's out of my hand. I only can control what I can control, and I'm here representing Team LeBron."
Read Also – NBA Commissioner Adam Silver Hits Back at LeBron James' Comments on All-Star Game's Timing
LA Clippers stars also showed their dismay
ADVERTISEMENT
Article continues below this ad
The Akron Hammer had chosen Sixers' Ben Simmons just three picks into the draft. He had called him 'Mr. Play Hard Every Possession' just as Kevin Durant regretted having lost a great defensive hand.
Later, in the same interview, Bron added, "I hate the fact that Joel and Ben would not be able to play because of that. Best wishes to them, even though they're not the ones who tested positive but with the contact tracing and all that mess stuff, but we're here."
Adding to this, after Kawhi Leonard claimed that he was bored to death because of the lack of excitement ahead of the ASG 2021, Paul George joined him too. PG (Team LeBron) said, "I personally didn't agree with the game but it is what it is."
ADVERTISEMENT
Article continues below this ad
Well, be it anything, the game is already ON with Steph Curry winning the 3-point challenge. Do you think the night will live up to the expectations? Help us know in the comments.