LeBron James Sets a League Record at 36 That Chris Paul and Carmelo Anthony Can Have a Hard Time Beating
Published 03/06/2021, 12:00 AM EST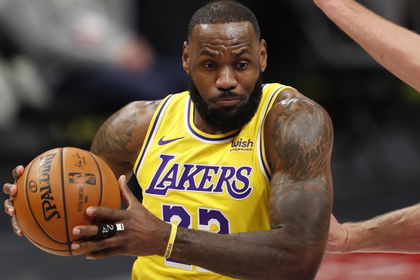 ---
---
Lakers' LeBron James is invincible beyond measure. Every time one feels he has pushed himself to his limits, the Akron Hammer takes a flight and stretches that threshold to set a new normal.
ADVERTISEMENT
Article continues below this ad
He is one of those guys that challenge everyone else to get better by shedding light on what's possible.
In the 2020-21 season, Bron came out of the smallest season break of his career to again play at the highest level. There are players who enjoyed a nine-month break because their teams did not qualify for the Orlando Bubble. Then there is LeBron James, who had just 50 days' time to replenish himself and come back as strong as ever.
ADVERTISEMENT
Article continues below this ad
LeBron James touching new heights at an old age
The L-Train has played 36 out of 37 games that the Lakers have played in 2020-21. He is already third on the list of players with the most number of minutes in NBA history and seventh-most this season. But it is not that he is just running down the floor and not producing any results. In fact, he has 929 points, 288 rebounds, and 281 assists to his credit in the current season.
Even with Anthony Davis on the team, LeBron James' record is very impressive, considering that he has kept himself away from injuries. The league is already witnessing a Sixth Man of the Year caliber performance from 36-YO Carmelo Anthony (Blazers).
Plus, it has a leader and dominant player in 35-YO Chris Paul who is helping the Suns reach newer heights. So, this achievement from Bron stands even taller because he is leading the Lakers and still not ready to take the supporting role.
Read Also – 'Definitely Deflating': LeBron James Unhappy With the Lakers' Growing Injury List This Season
The Lakers will need Bron to replicate it in the second leg
ADVERTISEMENT
Article continues below this ad
Amidst all the rumors around the veterans that can join the Lakers in the mid-season, Bron's importance stays the same. Coach Frank Vogel knows that he has to draw the plays around the chosen one, no matter who enters the squad. 
In the times when youngsters like Anthony Davis and Devin Booker have to pull out from the All-star, it is inspiring to see Bron leading the league. But at the same time, it raises a question, will he be able to continue putting so much pressure on his body throughout the season? There have been times in the fourth quarter when LeBron has visibly played with weak legs, and that has cost them big in the clutch time.
ADVERTISEMENT
Article continues below this ad
Do you think Bron can help the Lakers reach back on the top? Help us know in the comments.