LeBron James Uses Serena Williams to Reveal What 'Ultimately' Inspires Him to Deliver
Published 12/21/2020, 1:31 AM EST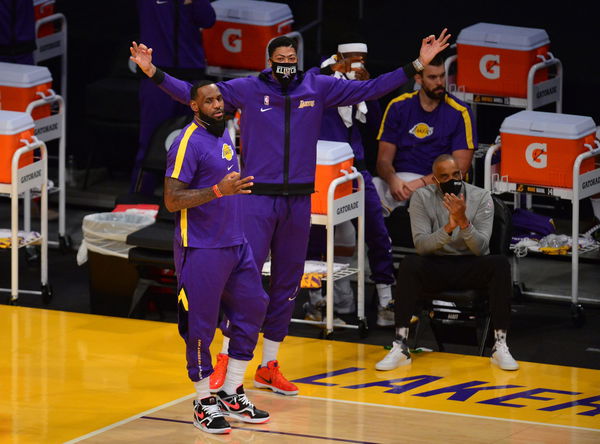 ---
---
It is a wastage of knowledge, skill, and attitude if the person in possession of these qualities is not inspiring the coming generation. The generational talents have this as their default duty to pass the lessons and raise another breed of change-makers. The NBA's LeBron James has this task on his priority list. 
ADVERTISEMENT
Article continues below this ad
TIME's Athlete of the Year 2020, LeBron acknowledges it time and again that his responsibilities extend out of the 94×50 basketball court.
His social media posts work as a reminder for his critics and fans alike that he is answerable for the improvement of the society's future. 
ADVERTISEMENT
Article continues below this ad
LeBron James dropped another inspiring post
The Akron Hammer recently uploaded 3 pictures on his Instagram album. One picture had the 23-time Grand Slam Champion Serena Williams practicing Tennis with her 3-YO daughter Alexis Olympia Ohanian Jr.
The other picture showed 15-time Major Championships winner Tiger Woods playing golf with his 11-YO son Charlie Axel Woods. 
The 4-time NBA Champion captioned the post, "Giving everything we've learned over the years right back to the ones who ULTIMATELY inspires us!" 
The FMVP 2020 is clearly inspired by other athletes who endured hardships in life to reach insane levels of success. As a result, he knows the importance of being a mentor to the next-gen.
He is already a great husband, an inspiring father, and a true role-model
King James married his high-school sweetheart in Savannah Brinson in 2013. He has 3 kids, Bronny James (16), Bryce Maximus James (13), and Zhuri James (6).
Out of the 3 kids, Bronny is someone who is quickly becoming a rising sensation already. LeBron has posted several practice videos with him training his son, who already boasts a great buildup. 
ADVERTISEMENT
Article continues below this ad
Bronny is not naturally as big as the young LeBron was in his late teen years. Still, the youngster is putting in some insane workouts, living on a strict diet, and practicing regularly.
The boy is already gaining more minutes to play on his high-school team and is evolving as a point guard just like his father. He is still a far cry from "the chosen one" but he is certainly on his way.
ADVERTISEMENT
Article continues below this ad