Lakers vs Suns Playoffs 2021: LeBron James and Anthony Davis on the Injury List
Published 05/22/2021, 10:02 PM EDT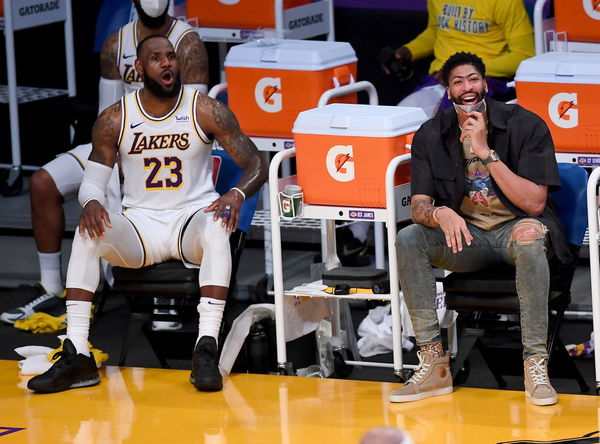 ---
---
The new league rules forced the Lakers to participate in the play-in tournament for attaining the playoff berth. Fortunately for them, they marginally defeated the Warriors and saved themselves from a tiring second game against the Grizzlies. However, it now seems that the one extra game alone has taken a toll over the Lake Show.
ADVERTISEMENT
Article continues below this ad
The Lakers are set to play the Suns in round 1, something nobody saw coming. Hence, they do not have the luxury to take their opener lightly and require full battery power to compete. But their freshly updated injury report is not helping the case.
Lakers injury report raised tremendous concerns
ADVERTISEMENT
Article continues below this ad
As per the report, both LeBron James and Anthony Davis are probable for game 1 against Phoenix Suns. AD has complained about a sprained shoulder while King James is still dealing with the right ankle troubles. If this report is any serious, one can expect the very healthy Suns to write off the Lakers in their first game. 
Now, both AD and Bron had earlier missed their game against the Rockets last week citing the same problems. Even playing against a table-bottom team, the Lakers had struggled big time and allowed the H-Town to make it a 2-point game until the game clock. So one can expect what damage it can do if the Lakers do not have their star duo to start the playoff series for them.
Also, one must note that the Suns are perfectly clean on their injury report, with just the forward Abdel Nader (right knee surgery) named on it.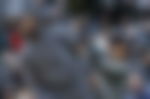 ADVERTISEMENT
Article continues below this ad
Can they still take the risk of resting LeBron James and Anthony Davis?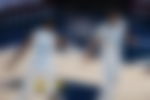 Frank Vogel knows that the Lakers are playing for the championship and that would mean that they need to play anywhere between 20-24 games. With the shortened break between the regular season and the playoffs, he must understand that LeBron James has not taken the kind of rest his 36-YO body requires. But the catch is, they're playing against Chris Paul's Suns and that 51-win team can get scarier if they take an early lead over the defending champions.
ADVERTISEMENT
Article continues below this ad
Hence, the best strategy would be to play both the players on restricted minutes in game 1. Do you agree here? Help us know your opinion in the comments.