Losing 2nd Bet in a Row, Bald Shaquille O'Neal Left Distraught Despite James Harden and Joel Embiid Walking All Over Kawhi Leonard's Clippers
Published 01/18/2023, 10:10 AM EST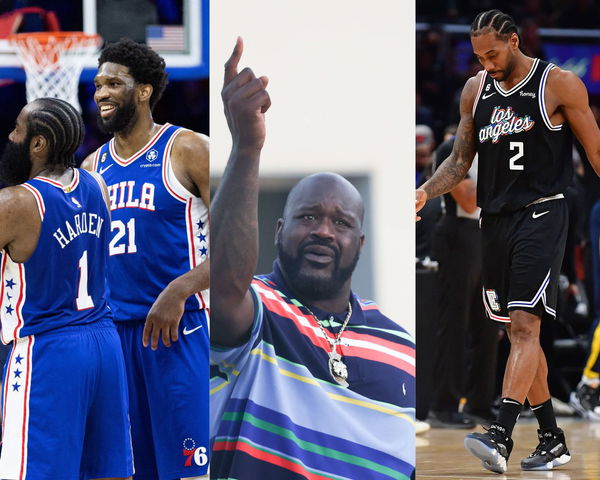 Betting on sporting events/teams/players can have some unwanted results. 4x NBA champion and 'NBA on TNT' co-host Shaquille O'Neal has experienced these unwanted results firsthand. While his confidence in another team/player's ability is commendable, it hasn't always turned out well for the 7'1 giant.
However, O'Neal has never shied away from betting on things he's confident about. Be it his bets with co-host Charles Barkley or guaranteeing a certain player's performance, Shaq remains clear and firm with his wagers. The best part about the Los Angeles Lakers legend is that he always follows up on his word. However, his latest bet may force him to go back on his word.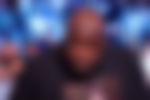 O'Neal has always been a fan of dominating big men. Philadelphia 76ers star Joel Embiid is one of the best in the league currently and he is a prime MVP candidate yet again. During the halftime show of their game against the Los Angeles Clippers, Shaq bet that Embiid would get 50 points. At that time, the 28-year-old had 28 points after a buzzer-beating three-pointer. "He's getting 50 or I'm getting baby hairs like Candace", O'Neal stated.
ADVERTISEMENT
Article continues below this ad
Shaquille O'Neal bets on Joel Embiid
During the NBA on TNT broadcast, O'Neal, who had vouched for Embiid to be named the MVP last year, confidently claimed that the 76ers star would get 50 points after a masterful first-half display. While the 76ers comfortably beat the Clippers, Embiid only managed to score 13 more points in the second half. Shaq, who recently turned bald as a part of embracing his oldness, had insisted that he wouldn't buy baby hair extensions as co-host Candace Parker had suggested.
On the other hand, co-host Jamal Crawford doubted whether O'Neal could even grow baby hair. However, Shaq confidently admitted that he could. Now that the Big Diesel has lost this bet, it will be interesting to see him with his bizarre promised hairstyle.
O'Neal hasn't had a good start to the year
While it remains to be seen whether O'Neal follows up on his bet, he did well after losing to Ernie Johnson a few days back. Shaq had to eat frog legs after Georgia beat TCU in the College Football National Championship game.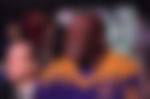 ADVERTISEMENT
Article continues below this ad
Betting against Kawhi Leonard's Clippers, who had lost 7 out of their previous 9 games, seemed a safe bet. Especially considering the fact that Embiid was on fire in the first half. However, Clippers did well to contain the 5x NBA All-Star. Despite their efforts, Philly went on to win the game 120-110 as they moved 0.5 games behind the 2nd seed Milwaukee Bucks. The 76ers overcame the Clippers despite James Harden scoring just 6 points.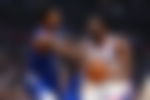 The Clippers continued their slide and they now have a record of 23-23, only 2 games better than 13th placed Los Angeles Lakers. It has been a tense battle for the playoff spots in the West and the intensity will only increase from now on.
ADVERTISEMENT
Article continues below this ad
WATCH THIS STORY: How much did Shaquille O'Neal weigh at birth?
Keep a look out for Shaq's hair growth over the next few weeks as it offers bundles of banter and fun.
Edited By: Satagni Sikder