'Mad at Me': Jalen Rose Revealed Why Michael Jordan Gave Him The Silent Treatment for Years
Published 02/17/2021, 10:37 PM EST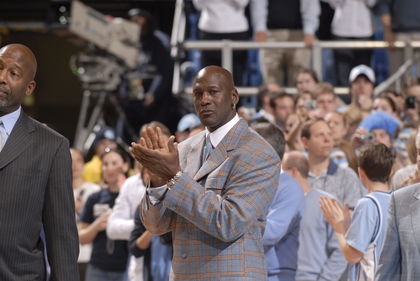 ---
---
The name Jalen Rose first made rounds when he was playing for the University of Michigan and was part of the famous "Fab Five." But when he joined the NBA, he was mostly overlooked and hardly appreciated for how productive he could be. Unfortunately for Rose, annoying Michael Jordan didn't help his case.
ADVERTISEMENT
Article continues below this ad
Michael Jordan is not only one of the greatest basketball players of all time but also the greatest trash-talker the league has seen. So for Rose to poke Jordan during a game was like playing with fire. In fact, he suffered the consequences for quite a long time.
Michael Jordan ignored him for years
ADVERTISEMENT
Article continues below this ad
In a special segment on Michael Jordan's 58th birthday, Jacoby played a clip of Jalen Rose, when he was playing for the Indiana Pacers, giving Jordan the shoulder during a game. At the time, Jordan was playing for the Wizards but didn't forget this incident for years.
"Remember, I leave the Pacers and I got the Bulls, his former team," Rose started off by saying. "He came in the summertime to the facility, multiple times and he didn't talk to me for years. Imagine being a member of the Bulls, the best player on the team, Michael Jordan comes with the Ferrari. Everybody is happy to see him. He's got the shoes, he is signing autographs, he's taking pictures with everybody. That's Michael Jordan. He ain't talking to me though. He's still mad at me from the Indiana days. He went years without talking to me." Did Jordan ever start talking to Jalen Rose again?
Rose revealed that it wasn't until Jordan became the owner of the Bobcats, now the Charlotte Hornets, that they went back to being on talking terms. This is the perfect example for anybody who wants to understand Jordan's competitive nature. It is actually one of the things people admire most about him.
ADVERTISEMENT
Article continues below this ad
Every team that Rose went to benefitted tremendously from his contributions. His 13-year-old career ended in 2007 when his aging knees weren't compatible with the Phoenix Suns' fast-paced game. Now an NBA Analyst, Rose is still not given enough credit for the great player he was.
Read also- 'I Could Play For the Nets': Jalen Rose Mocks Brooklyn Nets' Defense After Heartbreaking Defeat Against Wizards
ADVERTISEMENT
Article continues below this ad