'Made Luka Become a Two-Way Player': Isiah Thomas Lauds Kawhi Leonard's Stunning Performance Against Mavericks
Published 06/05/2021, 9:29 AM EDT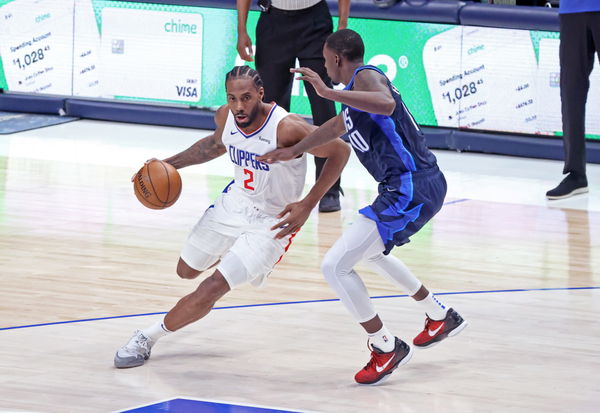 ---
---
The LA Clippers faced off against the Dallas Mavericks yesterday in game six of their first-round playoff series. Despite having superstars Kawhi Leonard and Paul George on their side, the Clippers found themselves in a dangerous position.
With absolutely no answer for Luka Doncic, the Clippers were trailing 3-2 to the Mavs and were on the brink of an elimination. Playing in Dallas, Kawhi & Co. had to put up a big time performance if they wanted to tie the series.
Isiah Thomas hails Kawhi Leonard for heroic performance against the Mavericks
The Clippers aren't considered as a clutch team whatsoever. After giving up a 3-1 series lead to the Nuggets in last season, fans and pundits had doubts whether the Clippers would thrive under the pressure.
Kawhi Leonard was certainly up for it. After a rather sub-standard performance in game 5, 'the Klaw' took charge of the LAC's offense in game 6. Scoring a game high 45 points, Kawhi led his team to a 104-97 victory. Leonard also took upon the challenge of defending Luka Doncic, who was inefficient from the floor.
Hall of Famer and Pistons' legend Isiah Thomas was certainly impressed by the 2-time Finals MVP's performance. "These are the type of performances that you that you want and and dream about in the playoffs and Kawhi just had one of those magical nights tonight where he couldn't be stopped he was doing everything dribbling, shooting, defending, I mean he was the best player out on the floor."
Thomas also explained how Kawhi attacking the matchup against Doncic was crucial. "I think by Kawhi going at Luka tonight the way he did, it put Luka on the defensive side where he couldn't be as good and as aggressive offensively with the ball."
"When you are just all offense, you know that's a hell of a luxury to have during the course of the game. I thought they made Luka become a two-way player tonight which kind of threw him off a little bit."
'The Klaw' and the Clippers certainly showed some heart in game 6 and fully deserved the victory. While his scoring was impressive, it seems like the 2-time DPOY has figured out how to contain the Slovenian. Will Kawhi complete the comeback for the Clippers in game 7 and lead them to the second round?