Magic Johnson, Ja Morant & Others React to Trae Young and Hawks' Epic Comeback Win Over 76ers in Game 5
Published 06/16/2021, 11:09 PM EDT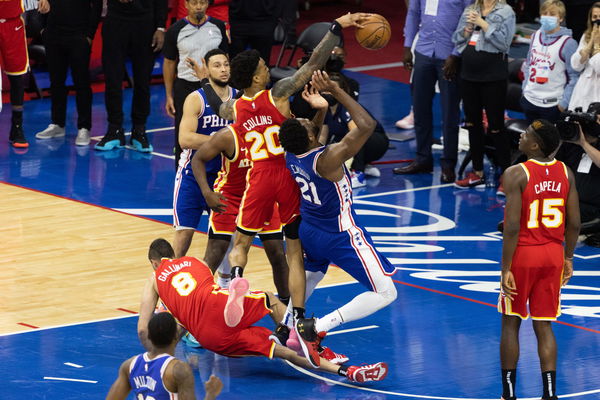 ---
---
Even though not much was expected when the Philadelphia 76ers were pitted against the Atlanta Hawks in the Eastern Conference Semifinals, the Hawks have become a living nightmare for Philly. After Joel Embiid's health issues, it was clear that this series could have no sure-shot predictions.
ADVERTISEMENT
Article continues below this ad
The 76ers were expected to be the first team to land themselves in the Conference finals, and maybe go even as far as the NBA finals. However, it's possible that the Hawks might be slowly pulling that rug from underneath the 76ers as they take a 3-2 crucial lead.
The Philadelphia 76ers are in trouble
ADVERTISEMENT
Article continues below this ad
Game 4 was the perfect example of the fact that this series is anything but predictable. Not only did the 76ers lose a victory that was pretty much handed to them on a plate, but they also saw Joel Embiid leave for the locker room early in the second quarter. Although he returned, he didn't look the same throughout the rest of the game.
Tonight's game was no different. Philly started off leading in double-digits and went into half-time with a 22-point lead. However, a poor fourth quarter had them doomed.
While the Atlanta Hawks scored a monstrous 40 points in the last quarter, the Sixers had only 19. Atlanta was able to cover up its deficits quickly and the game ended 109-106. Now, with the possibility that fans won't see the 76ers in the conference finals, NBA Twitter fans are having a field day.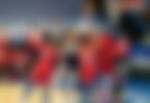 Trae Young does it again for the Atlanta Hawks
The 76ers did everything right, up until the end of the game. They somehow blew a 26-point lead and landed themselves on the losing side of the matchup. This came despite Joel Embiid ending the night with 37 points and 13 rebounds and a lousy defense from the Hawks.
ADVERTISEMENT
Article continues below this ad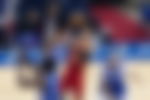 Seth Curry looked like his brother tonight as he added 36 points to the scoreboard alone. But then came Trae Young, who surpassed both Seth and Embiid, and was able to contribute a whopping 39 points to this proud victory. Meanwhile, the Hawks' secondary scorer was just 19 points.
The 76ers collapse in the fourth quarter has put them on the brink of elimination. They are one game away from depriving fans of a dream conference finals matchup between the Nets and 76ers. Do you think Philly will be able to push for a Game 7? Or is this it for them this season?
ADVERTISEMENT
Article continues below this ad
WATCH THIS STORY: Kevin Durant vs Kobe Bryant: First Playoff Duel in 2010