Magic Johnson Once Angered Celtics Fans With This Comment About Kevin Garnett
Published 08/14/2021, 11:15 PM EDT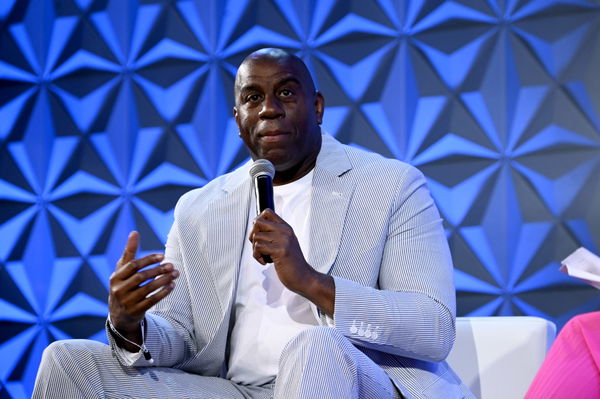 ---
---
The Boston Celtics and the Los Angeles Lakers have shared one of the most intense rivalries the league has ever seen. Perhaps the biggest chapter in this rivalry was the battle between the Magic Johnson led Lakers and Larry Bird Celtics.
ADVERTISEMENT
Article continues below this ad
Sharing titles year after year, the 80s was certainly the era of Magic and Bird exchanging the Larry O'Brian trophy. Winning two finals each, the Lakers and the Celtics were two evenly matched teams and perhaps played some of the best basketball in their era.
ADVERTISEMENT
Article continues below this ad
When Magic Johnson angered Celtics' fans by omitting Kevin Garnett
ADVERTISEMENT
Article continues below this ad
Celtics have seen some of the biggest names in their ranks over the years. But perhaps the most iconic team in recent memory for Boston were the 2008 Celtics featuring Ray Allen, Paul Pierce and Kevin Garnett.
With KG's physicality and intensity coupled along with Allen's shooting, the Celtics had one of the most balanced big threes. Given how intense Garnett was on the floor and the versatility he brought on the court. He was definitely one of the top forwards in the league but Magic Johnson had a different take.
ADVERTISEMENT
Article continues below this ad
In a public appearance when the Lakers' legend was asked whether 'the Big Ticket' would make his dream team or not, Johnson had a rather blunt no for an answer. The 5-time NBA champion later clarified, "Kevin wouldn't make my dream team."
Magic then went on to mention his dream team.
"Michael Jordan, Larry Bird that's easy just then take probably Dr J and then I'll take Kareem and Bill Russell. It's over. Give us the championship right now."
The Lakers' legend later went on to appreciate the Celtics' legend. "I love Kevin Garnett. I think if I'm talking about a team right now, definitely he would be there him and Tim Duncan you got some great players you got… He's the most versatile player in the league."
Celtics' fans might have been angered with Magic's comments but if anyone looks at the Lakers' legend's dream team, it is understandable why KG didn't make the cut. With arguably five of the most versatile and impactful players of their era, Magic probably named one of the most formidable teams of his era. Who do you think from the modern NBA would make the cut in the list?