'Makes Things Work' – Nets' Kyrie Irving Emphasizes the Importance of Kevin Durant to the Team
Published 02/22/2021, 8:38 AM EST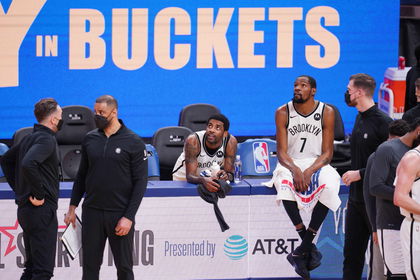 ---
---
Kevin Durant and the Brooklyn Nets are favorites to win the NBA title. Even though he signed with the Nets in 2019, Durant spent the entirety of the last season on the sidelines recovering from an Achilles' injury. And now, despite a small injury, Durant is considered crucial to the success of his new team.
ADVERTISEMENT
Article continues below this ad
Kyrie backs up Kevin Durant in his absence
Kyrie Irving spoke to the press after the Nets' win over the LA Clippers. It was a major win over a potential Finals opponent for the Nets. What made it even more impressive was that the Nets did it without star player Kevin Durant. Despite KD's absence, Irving doubled-down on the importance of Durant to the franchise.
ADVERTISEMENT
Article continues below this ad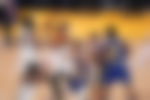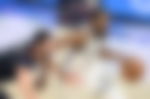 "Well, we need him," Irving noted. "In all aspects, whether he's on the floor or not, he makes this thing work. We came here with a plan to be able to build something here in Brooklyn. When it is six in a row, all it does is just keep the world silent for a little bit."
Brooklyn Nets working toward the NBA Finals
Irving also added that the franchise is currently experiencing a good period. But the moment they experience some difficulty, there will be questions asked about their ability to play together. However, Irving added that the franchise is looking forward to reaching the major stages and enjoying the journey till that point.
ADVERTISEMENT
Article continues below this ad
He said, "Wait until we kind of hit a bump in the road, and then it's what's going on with the Nets?' So I think we just take both polarities and just stay the course and the destination is making it to the main stage and earning our way there first and foremost. Nothing is given, we're just going to continue to enjoy the journey."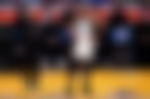 Can the Brooklyn Nets reach the NBA Finals? The new trio of Kevin Durant, Kyrie Irving, and James Harden is looking like an offensive juggernaut. But there are still some questions being asked about their defensive abilities. If the Nets can figure out a more permanent defensive solution, they may be the most formidable basketball team in the NBA.
ADVERTISEMENT
Article continues below this ad