Massive Kyrie Irving Update Emerges Suggesting Brooklyn Nets Journey May Be Nearing Its End
Published 05/25/2022, 12:58 PM EDT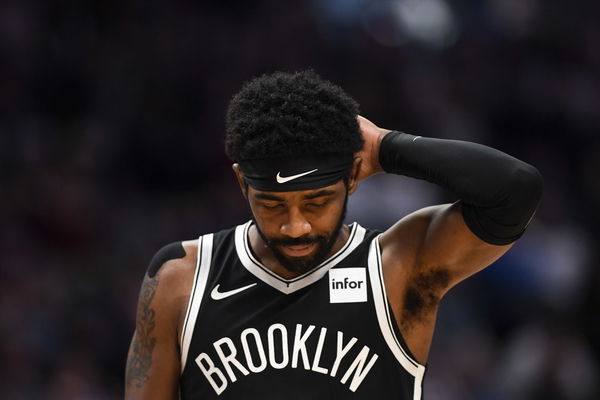 Despite having the dynamic trio of Kevin Durant, James Harden, and Kyrie Irving, the Brooklyn Nets were unable to field all three for a long time. The reason being? The league disallowed any participation by Irving whenever the team played at home.
A New York City mandate required all athletes to be fully vaccinated while they play for any team in the city. For the uninitiated, Kyrie took a personal health decision that kept him out of home games. Although the mandate was lifted, Irving's future still looms.
ADVERTISEMENT
Article continues below this ad
According to the latest reports, the front office is skeptical to offer Irving a long-term extension due to the aforementioned reason and his long injury history.
Kyrie's Nets future hangs in the air
There is no denying the Brooklyn Nets have one of the most talented rosters in the league. With players like Kevin Durant and Kyrie Irving on the team, a lot was expected from them.
However, the Boston Celtics swept them 4-0 in the first round of the NBA playoffs. This caused one of the biggest upsets this season, which angered fans and analysts all around.
The Brooklyn Nets are reportedly 'unwilling' to give Kyrie Irving a long-term extension due to his personal decision to not get vaccinated and unpredictable injury history, per @Krisplashed pic.twitter.com/zsDNLjT1qL

— NBACentral (@TheNBACentral) May 25, 2022
Moreover, their problems started long before the NBA playoffs. The Nets were dealt with a blow as a New York City mandate disallowed Kyrie to play during the home games.
This forced the Nets to take some tough decisions. According to the latest reports, the front office will make a decision against offering Irving a new long-term contract. For the uninitiated, Uncle Drew's current contract with the Nets ends in 2023.
How has Kyrie Irving been this season?
ADVERTISEMENT
Article continues below this ad
Despite not being able to play home games this season, Irving has been an important part of the Nets team, especially when Kevin Durant was out with injury.
He averaged 27.4 points, 4.4 rebounds, and 5.8 assists this season in the regular season. During the first-round matchup against the Boston Celtics, Irving averaged 21.3 points, 5.3 rebounds, and 5.3 assists. (Source: basketballreference.com)
ADVERTISEMENT
Article continues below this ad
WATCH THIS STORY: Who is Sam Bowie, the Player Picked above Michael Jordan in the infamous 1984 NBA Draft?
Do you think Kyrie Irving will stay in the Brooklyn Nets? Let us know in the comments below.