Massive Super Bowl Commerical Featuring a 17-Year-Old LeBron James Leaves Him Feeling "Crazy/Trippy"
Published 02/14/2022, 10:40 PM EST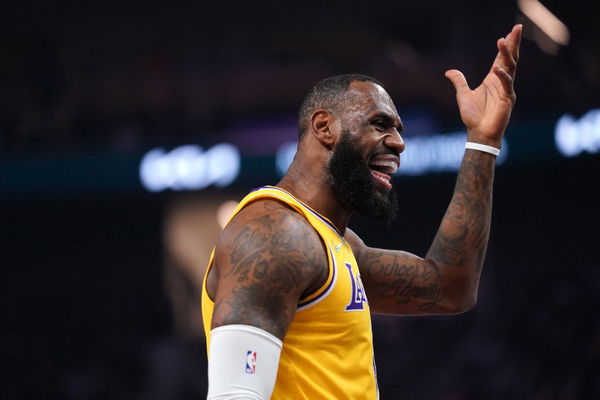 Los Angeles saw history last night as the LA Rams won the Super Bowl for the first time since 2000. The Rams went all in this season and got in some serious heat. Likewise, it payed off in their favor as they were crowned the champions of the football world. Meanwhile, another major thing that came out was a LeBron James commercial, with him having a conversation with his 17-YO self. And this had even the King feeling a little weird.
ADVERTISEMENT
Article continues below this ad
LeBron admitted on Twitter that he felt 'trippy' about his commercial.
ADVERTISEMENT
Article continues below this ad
Similar to the Rams, LeBron has been creating history while he dominates with the Los Angeles Lakers. Recently, he surpassed Kareem Abdul Jabbar for most combined points in regular season and playoffs in NBA history. This isn't the first of his achievements and it surely won't be his last. The King is yet to show signs of slowing down despite being 37. He seems to have found a new gear and it is embracing his role to the fullest.
LeBron James feels weird talking to younger self
While James is a monumental figure in the basketball world, it wasn't exactly the case before he got into the league. The stakes were high when a teenager LeBron James played for St. Mary Vincent high school in Ohio. He took up the nickname 'The Chosen One' and had huge expectations on his back. Back then, any 17-year-old kid would crumble with the mountains of pressure on him. However, the King prevailed.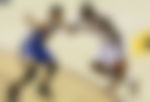 While joining hands with crypto.com, LeBron made a Super Bowl commercial that had him talking to his past self. LeBron spoke to his younger version about the future and how things are changing. But when a young James asked whether he made it, LeBron simply said he can't tell him everything. The commercial was a home run but for the L-Train.
ADVERTISEMENT
Article continues below this ad
Was crazy/trippy to see myself again at 17!! How about y'all??? 🤴🏾x🤴🏾 Nevertheless The future IS crunk! 🤣🤣🤣🤣 @cryptocomofficial # FFTB https://t.co/WlhOfdBvMD

— LeBron James (@KingJames) February 14, 2022
While it may have been weird watching himself, James sent a powerful message to everyone. He passed on how it is the person's actions that control the future, and anything is possible when they take their own decisions. That may have risk, but it sure pays off when combined with the right attitude.
ADVERTISEMENT
Article continues below this ad
WATCH THIS STORY: When Will Ben Simmons Make His Season Debut for Brooklyn Nets
What did you think of the commercial? Let us know in the comments below.