Mavericks Head Coach Jason Kidd Wants Luka Doncic to Become a Better Leader
Published 07/22/2021, 11:22 PM EDT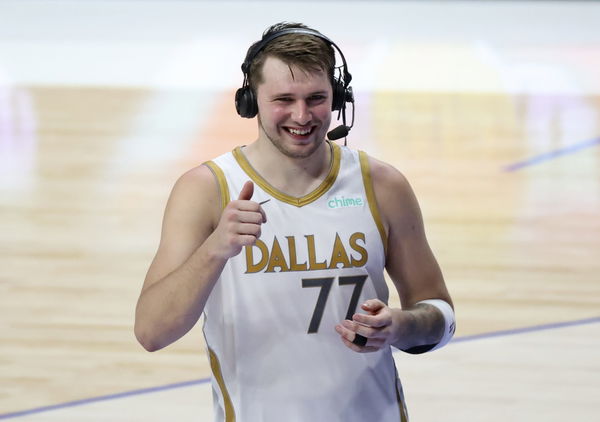 ---
---
Luka Doncic might only be 22 years-old but he certainly is dominating the league right now. The Slovenian wonder kid, is the center to the Mavericks' offense and certainly showed his brilliance against the Clippers in the playoffs.
But Luka's masterclass was to no avail as the Mavericks' supporting cast fell flat. With a new season up ahead, Dallas will be desperate to make some big changes and keep their young superstar happy in the team.
New head coach Jason Kidd speaks about helping Luka Doncic
One of the biggest decisions the Mavs have made so far in the off-season has been the departure of long-term head coach Rick Carlisle. Carlisle who led the Mavericks to the 2011 championship, has led his team to multiple post-season appearances lately.
But with no significant progress, the veteran coach departed from the team. With Carlisle gone, the Mavericks have now signed former Mavericks legend Jason Kidd as their new head coach. Kidd recently made appearance at ESPN'S the Jump. There the Hall of Famer guard spoke about how he is planning to help Doncic.
"Luka is a different player when you look at someone who's 22 years old and what he's accomplished early on in his career it's amazing. I'm not going to tell him not to shoot. He can shoot the ball my job is to help make the game easier for him understanding the game within the game."
"Understanding you know how to get guys going become a better leader. He's already a leader at 22 but to help him with that leadership quality and again help him in every aspect of the game to try to make it easy."
Doncic already has shown that he can be the best player on the court and put up insane numbers. But now he needs to learn how to rally his teammates under the pressure situations and lead the team. Kidd can help the Slovenian. J-Kidd is an excellent coach in bringing the best out of stars. Given how talent Doncic is, he might reach a whole new level under the new head coach.
But J-Kidd's acquisition might not be the biggest news for Dallas. The Mavericks' off season is just getting started as they will have to make some bold roster changes if they want to succeed and make deep playoff runs. Can Doncic and Co. succeed under their new head coach?