Mavericks' Luka Doncic Downplays Comparisons with NBA Legend Larry Bird
Published 02/28/2021, 5:30 AM EST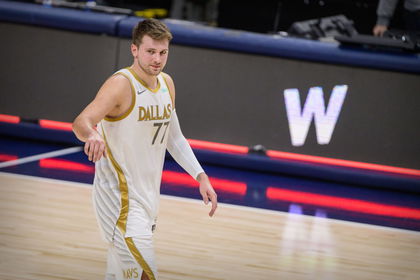 ---
---
Luka Doncic is arguably the best young player in the NBA. The Slovenian prodigy has bamboozled pundits and fans alike with his all-around offensive display on the court.
ADVERTISEMENT
Article continues below this ad
The 21-year-old has been in amazing form for the underperforming Dallas Mavericks. In the 31 games he has played, he has averaged 28.5 points, 9.0 assists and 8.4 rebounds per game.
Ex-Celtics star Cedric Maxwell was certainly impressed by the young star. In an interview with New York Times' Marc Stein, Maxwell said, "You can quote me: This is Larry Bird reincarnated." He even added, "This would be Larry Bird of the 2020s, exactly how he would play now."
ADVERTISEMENT
Article continues below this ad
This is high praise for a young star who is only in his third year in the league. Doncic also responded to Maxwell's claim after Mavs' latest victory against the Nets when the 21-year-old was asked about how he felt about the comment.
The Slovenian said, "You can't compare me to Larry Bird because of the things he has done… More, more games to go. A long time so you can't compare me to Larry Bird. I just want to keep hooping, have fun playing basketball."
Given the progress Doncic has made in his short career, he is already one of the best players in the league. If he continues to develop, there is no doubt that he can be the league's next Larry Bird.
Can Luka Doncic and the Mavs make a deep playoff run?
The Dallas Mavericks have been one of the most underperforming teams this season. Despite Doncic's heroics on the court, an underwhelming support cast hasn't helped the team.
A slow start for their second star, Kristaps Porzingis, has played a big part in the Mavs' disappointing performances. The 7'3″ Latvian has been underwhelming on the offensive as well as the defensive end.
ADVERTISEMENT
Article continues below this ad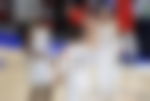 With a lackluster Porzingis, the Mavs have massively suffered and are currently with a .500 record of 16 wins and 16 losses. The Mavs have two options now to either bolster their roster with a possible trade for Porzingis or hope that their star can improve gradually.
Given the Mavs' performance in last year's playoffs, there is no doubt that a healthy Porzingis can leave his mark in any game. The Doncic-Porzingis duo has worked wonders for the Mavs.
ADVERTISEMENT
Article continues below this ad
If the Mavs' front office decides to make some minor tweaks and add a prolific shooter in the team, Doncic and the Mavs' will once again be a dark horse in the Western Conference and might be in for a deep run in the playoffs.