'Meant Things Tongue-in-Cheek': Chris Bosh Reacts to Pat Riley's Latest Comments About LeBron James
Published 06/10/2021, 8:12 AM EDT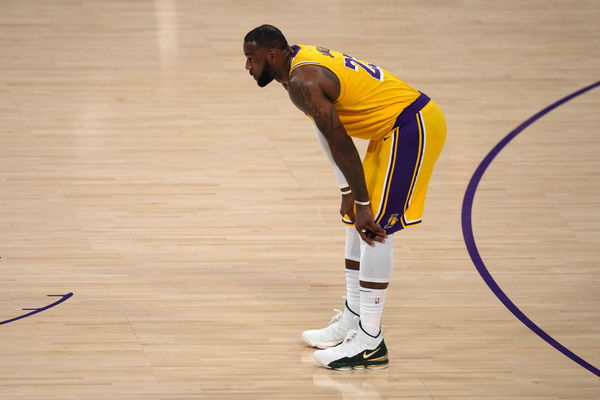 ---
---
LeBron James might be playing for one of the best teams in the Los Angeles Lakers, but his prime years were arguably in the Miami Heat. Playing alongside Chris Bosh and Dwyane Wade, Bron was arguably at the height of his powers.
While Dwyane Wade and Chris Bosh were pivotal members, there is no denying that the star of the show was LeBron James. The Miami Heat were definitely one of the best teams in the 2010s, winning two championships and making four trips to the NBA finals.
Pat Riley comments on LeBron James' return to the Heat
The Miami Heat have clearly not been the same team since the departure of the big three. While they made a Finals appearance, the Heat haven't been pretty consistent in the Eastern Conference dropping out of the first round of the playoffs this season.
In a recent appearance at a podcast, veteran executive Pat Riley commented whether he would welcome LeBron to the team. "I would leave the key under the doormat if he [LeBron] would call me and let me know that he's coming… but I doubt very much that key… That key is rusted now… and if he ever wanted to come back, I'll put a new shiny key under the mat."
These comments certainly did not bode well with league, as they fined Riley a hefty sum of $25,000.
Chris Bosh reacts to Pat Riley
In a recent appearance at ESPN's the Jump, the 2021 Hall of Fame inductee Chris Bosh spoke about why Riley might have made those comments.
"If you're not if you know the Heat, they're thinking about the next move and things to get better. And yeah, we're living in that world of tampering. I'm pretty sure he meant things tongue-in-cheek just a bit maybe a little serious but you know um that's what happens you want to be playing right now.
"You want to be in the mix in the fight competing for a NBA championship and to not have that you know I'm sure he starts going back down memory lane and just thinking of different scenarios…" 
While Riley and the Heat would welcome Bron in a heartbeat, it is highly unlikely that 'King James' would join the former Eastern Conference champions. With a contract signed up to 2023, LBJ looks set to have his last dance with the Purple & Gold. Do you think LeBron James will join Riley in yet another conquest for a championship?
Watch this story – Best Teammates of LeBron James in His Career