"MF**'s S*it Go To The Penthouse": Kobe Bryant Schooled James Harden In Rarely Seen Game
Published 08/16/2021, 2:40 PM EDT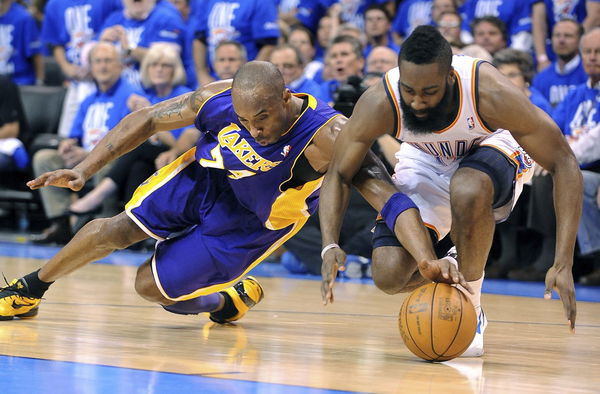 ---
---
10 years ago today, Kobe Bryant gave James Harden a memory for a lifetime. This dates back to 2011. In a "pick up game" in the Drew League, James Harden outscored Bryant on paper with a game-high 47 points. But Bryant came out on top in the end. He even dunked on James Harden and came off the court to say, "MF**'s S*it Go To The Penthouse".
ADVERTISEMENT
Article continues below this ad
Nearing the end of the 4th quarter, the game was tied, and the crowd was yelling "Kobe!". As the clock ticked down, Bryant walked the ball up the court and called for an isolation on Harden. Bryant got to the top of the key on a hesitation dribble and hammered a patented fadeaway jumper over Harden's outstretched arm.
Kobe pulled up to the Drew League 10 years ago and put on a show…

With his squad down late in the 4th qtr, cops tried to get him to leave early. Kobe said, "I gotta finish the game," then led a legendary comeback including a game winner at the buzzer!pic.twitter.com/NuYxPhficr

— Josiah Johnson (@KingJosiah54) August 16, 2021
ADVERTISEMENT
Article continues below this ad
Kobe Bryant dropped the final game-winning shot on James Harden in front of a few hundred fans. However, this event made the national news that year. What makes this a classic Mamba moment is that mid-game, the police asked Kobe to leave early. Despite the safety concerns, Kobe said "I gotta finish the game" and continued playing.
Even a few months ago, Harden admitted he used to "Talk Smack" to Kobe who used to remain unphased by his comments.
Kobe Bryant and James Harden's Opinions on Each Other
ADVERTISEMENT
Article continues below this ad
Kobe Bryant always held a special amount of respect for James Harden. Despite dropping the game-winner on him in the Drew League, in 2015 , Kobe Bryant had lauded James Harden publicly on The Jimmy Kimmel Show. He said if he were to build a new roster with the young players back then, he would build it around James Harden.
In response to that, 2 years later, James Harden went for an interview with the same host Jimmy Kimmel. He didn't hesitate to recall his early memories with Kobe fondly when Kimmel brought up Kobe's topic. James Harden recalled this incident with a smile because he had a history with Kobe. Also because he was a Lakers fan as a child and this was special for him.
ADVERTISEMENT
Article continues below this ad
Jimmy asked him what it was like to play in his first game against Bryant. Harden said, "He came out. I had 50 points, though. He had like 40? But he had the game-winner." and laughed about it.
Harden goes onto say that "I think we all miss him, he's a legend".
This shows how much respect and admiration Harden and Bryant had for one another.